Two young men who appear to have sneaked into EU member Croatia have been found dead in a forest near the town of Dreznica.
"Twelve people were found of whom two were dead," police spokeswoman Senka Staroveski told reporters.
The circumstances of their deaths remain unclear, but daily newspaper Jutarnji List said the men, with Syrian documents, had been crushed to death by a rock after a landslide while they slept.
Since January, more than 80 migrants have died along refugee routes starting in Turkey, according to estimates by Doctors Without Borders (MSF). The most common causes of death have been drowning, freezing temperatures or road accidents.
Read more: Closed borders boost people smuggling across Balkans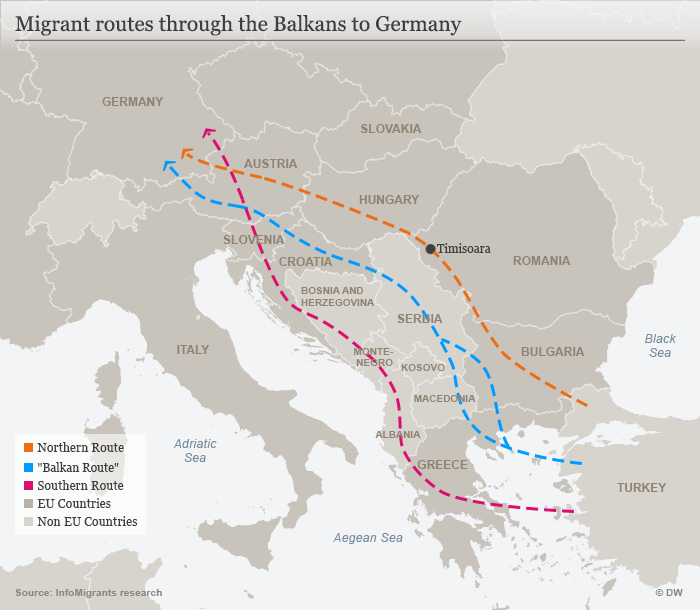 New Balkan route
At the height of the migrant crisis in 2015, hundreds of thousands of people entered Europe through Greece and traveled onward along the Balkan route through Macedonia, Serbia, Hungary, Slovenia, Austria and on into Germany and beyond. Some also used eastern paths through Bulgaria and Romania.
But since countries along the Balkan route began fencing off their borders in early 2016, migrants have been forced to take alternatives routes.
Bosnia estimates that around 10,000 people have entered its more rugged territory so far this year, with 4,000 of them now located in the towns of Bihac and Velika Kladusa.
The towns lie near the border with Croatia, which is striving to become part of Europe's free-movement Schengen zone.
According to the United Nations, some 7,600 newly arrived migrants — mainly from Pakistan, Syria and Afghanistan — were registered in Bosnia in the first half of 2018.
Red Cross and local Bosnian volunteers have reportedly been providing meals and other basic services to those camping out in parks or abandoned buildings.
EU funds for Bosnia
Anger in Bihac over the Bosnian government's allegedly poor handling of the influx coincided Friday with an EU promise to grant Bosnia €6 million ($6.85 million).
That would be on top of €1.5 million granted in June and would help Bosnia tackle human trafficking and strengthen border control, said EU officials.
Last Tuesday, Bosnian Security Minister Dragan Mektic said the EU had agreed to fund a reception center in Bosnia's northwest.
Another facility in a former military barracks is being planned in Hadzici, near Sarajevo, with support from the Council of Europe Development Bank.
The Czech Republic announced Tuesday that it would give Bosnia about 1 million euros for equipment such as thermal imaging cameras, telescopes and drones to deter new arrivals.
ipj/cmk (AFP, dpa, AP)