"How old are you?" "I'm 15." "Are you traveling alone?" "Yes, alone." "And no one is looking after you?" "No, no one." "Do you have family in Germany?" "No. My family sent me here, because you know what the situation in Afghanistan is like. My father didn't want me to become a farmer like him."
Sohail is a frail boy with large, clever eyes and traces of a mustache. He is just one of thousands of refugees stranded in Serbia. They were all stopped along the Balkan route. They arrived after fences, border controls and deportations became the norm in Europe. Serbia is industrious, but the country hardly has any other choice. Its neighbors have closed their borders; Hungary allows only 20 people a day into the country. Sohail has no chance. Although no one can say for certain what criteria authorities use when making their decisions on who is allowed to go further, one thing is clear: families are let through almost exclusively.
The Afghan teenager found shelter in a desolate warehouse behind Belgrade's central train station, like hundreds of others. The unsound brick building smells of urine, smoke, dampness and the sweat of the many miles covered. Piles of rubbish are lying everywhere - between people sleeping under blankets, campfires, and begging men. The Belgrade stage is agony. "You can't live here under these conditions. But it is all we have," says Sohail, unconcerned. He has been here for one month.
Why doesn't he register with the authorities, so that he can be taken to a refugee center? There are 12 such facilities, and they offer space for around 7,000 people. Admittedly, they are not luxury accommodations but at least they provide warmth and food. But that is the last place Sohail wants to go to. Rumors are circulating that the camps are full, except for the one in Presevo - far to the south, on the border with Macedonia. "We have heard that from there you will be deported to Macedonia. My friends experienced that," says the boy.
The fairy tale is over
Rados Durovic, from the Belgrade Help Center for Asylum-seekers NGO, said that the camp in Presevo is a closed facility - none of the people living there are allowed out. "The excuse for this is that lice and scabies would have spread in this shelter," Durovic told DW. "But that's no reason for taking away their freedom of movement; that's forbidden under the Serbian constitution."
Apart from this, the camps are bursting at the seams, the hygiene is poor and the bureaucracy too slow when it comes to finding accommodation for the refugees, he added.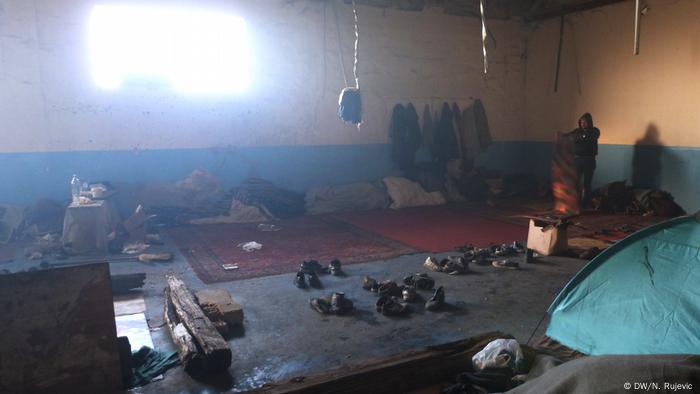 Refugees with no money and no place else to go live in facilities like this one, near Belgrade's main train station
The border with Bulgaria is also guarded by the army. Those who do find a way through should be given accommodation in asylum centers, said the Serbian Refugee Commissioner Vladimir Cucic. Migrants should not be outside and that's why informal settlements deserve to be cleared, he added.
Invisible people
Restrictive policies are a boon for human traffickers, said Durovic. "They have become proper corporations," he said. "Also some Serbs have used the opportunity to make fast money. The smugglers' networks cannot be broken."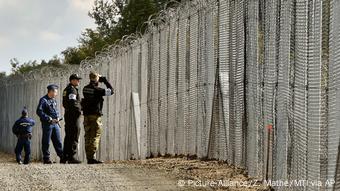 Hungary only allows in 20 refugees per day
Human traffickers are also active in Belgrade, report many DW sources. One NGO member, who is constantly in contact with refugees, says that in the Serbian capital there are thousands of "invisible people." They are housed in private apartments because they either have some money or they have found a hiding place thanks to the smugglers. Many interview partners say that the route from Macedonia to Serbia costs 300 to 500 euros ($320 to $530).
Belgrade's train station depot, though, is a shelter for those who can only dream of smugglers - destitute people like Zeeshan Khan from Pakistan, who wants to make it across the green border to the European Union on his own. "I want to go to France, Italy, Germany. I don't mind," says the 22-year-old.
Zeeshan is willing to try because desperation grows daily on the Balkan route. In the last few weeks, two groups of migrants reportedly attacked each other with knives - one Afghan was killed. Another hanged himself near an asylum center, after he had tried on a number of occasions to reach a Western country - without success.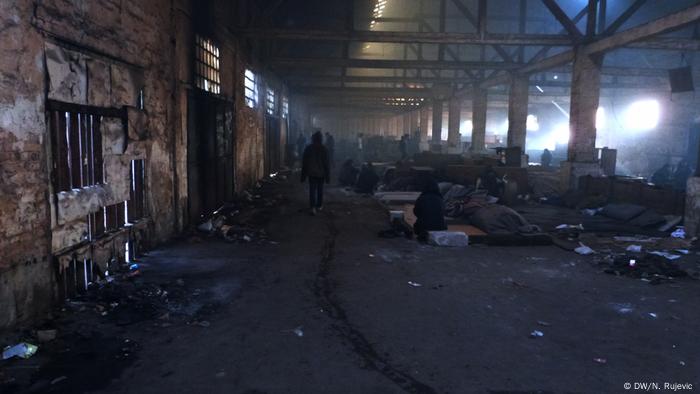 Accommodation for refugees in an abandoned depot behind Belgrade's main train station
'We cannot stay a transit country'
In Bulgaria and Macedonia, thousands of people are waiting for the opportunity to reach Serbia. In Greece, 60,000 people are in a difficult state of limbo and further east in Turkey, the government in Ankara is threatening to allow millions of refugees into Europe.
"The European Union has betrayed its own principles," Serbian Ombudsmann Sasa Jankovic told DW. The Serbian interpretation of the restrictive refugee politics is not pretty, but it is realistic, he says. It will not always stay like that forever, though, cautions Jankovic: "We in Serbia must understand that we cannot stay a transit country. The world is in upheaval; there are countless millions on the run."