Germany has found itself at the center of a conflict that blurs the line between police investigation and political persecution. Carles Puigdemont, the leader of the Catalan independence movement, is the most prominent man with a European arrest warrant out in his name.
His recent release from German detention shows just how quickly the implementation of a European arrest warrant can turn political, especially when the crimes listed on the warrant do not exist in the country where an arrest is made — in this case, Germany.
German politicians have hotly debated Puigdemont's extradition, and the Spanish government has grudgingly accepted the decision of a German court to release him on bail.
Read more: Carles Puigdemont belongs in Spanish court
"A European arrest warrant is supposed to ensure that criminals cannot escape justice by crossing borders. At the same time, it is supposed to protect the rights of concerned parties across the EU," explains Ralph Bunche, director of Fair Trials, a nongovernmental organization that follows police investigations around the world. Bunche says it is not clear if that has been the case with Puigdemont.
Ever more arrest warrants
The European arrest warrant, which was introduced in 2004, is viewed by law enforcement authorities as a helpful tool for pursuing organized crime across borders. The number of those warrants issued has risen rapidly since their introduction, from 6,894 in 2005 to 16,144 in 2015. As a consequence, the international law enforcement agency Interpol has become unintentionally political at times due to its "red notices." The term denotes a request made to Interpol to "determine the location of a particular person and provisionally arrest them."
Read more: Interpol: Who polices the world's police?
In August 2017, for instance, Interpol arrested German-Turkish author Dogan Akhanli in Spain at the request of the Turkish government. Although international protests kept the author from ultimately being extradited to Turkey, he was not allowed to leave Spain for two months after having spent one day in police detention. After Akhanli's release, German Chancellor Angela Merkel accused Turkey of misusing Interpol for political ends.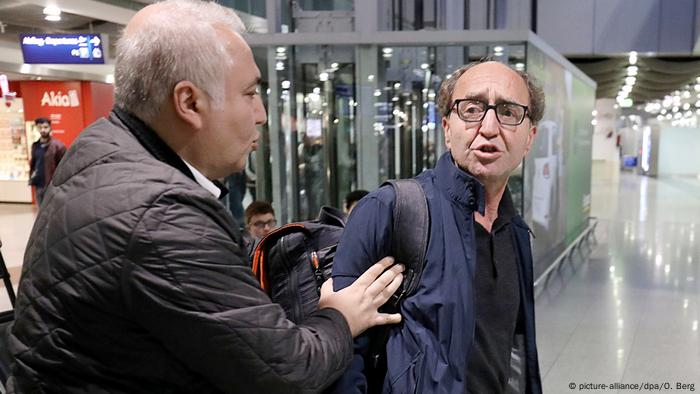 German-Turkish author Dogan Akhanli was arrested by Interpol in Spain last year at the request of Turkish authorities
"Interpol has been used as a weapon against journalists, human rights activists and refugees," a Fair Trials report titled "Strengthening Interpol" found. Indeed, a number of countries that are Interpol members have notoriously poor human rights records. "Those countries abuse the Interpol system in order to export their own repressive mechanisms and force their critics to remain silent," according to the report.
Fled and caught
Fair Trials counsels more than 100 people who were arrested as a result of the red notice program. Among them: Dolkun Isa, president of the World Uyghur Congress, Russian fugitive Petr Silaev, Egyptian asylum seeker Sayed Abdellatif, who is being held as a terrorist in Australia, and Venezuelan journalist Patricia Poleo, who was arrested despite having asylum in the United States.
Read more: Albania police liaise with EU, US to arrest people smugglers
As has been the case with European arrest warrants, the number of red notices issued over the last several years has increased dramatically. According to Interpol, the number of searches shot from 1,481 in the year 2001, to 12,878 in 2016. Interpol, however, vehemently denies accusations of political abuse.
"It is important to point that out, because the number of cases in which red notices do not conform with Interpol statutes is extremely low," an Interpol spokesperson told DW. Those statutes "strictly forbid the organization from all interventions or activities of a political nature."
Reforms at Interpol
As a result of growing criticism — from the Parliamentary Assembly of the Council of Europe and others — Interpol decided to enact reforms. Since 2017, a panel of experts, the Commission for the Control of Files, has investigated every red notice issuance. The Commission also processes complaints lodged by the arrested, who often had no previous opportunity to appeal warrants outside of their home countries.
Read more: Poland enlists Interpol in hunt for Nazi war criminals
Fair Trials sees the reforms as an important step forward, but the NGO says the threat of political abuse still exists. "The system has to be improved in such a way that repressive governments can no longer misuse it politically," the organization says. "It is important that the world police force is monitored by the world."