Catalan separatist and the former head of the regional government Carles Puigdemont paid bail on Friday, allowing him to walk out of jail after he was arrested last month on a European warrant.
After walking out of jail, Puigdemont called for the release of so-called political prisoners in Spain, notably those who were arrested for their involvement in the Catalan independence referendum.
"I call for the immediate release for all of my colleagues still in Spanish prisons," he said in English. "It's a shame for Europe to still have political prisoners."
"The time for dialogue has arrived," he declared, condemning the "violent and repressive response" the push for secession has received from the Spanish government.
Puigdemont also thanked the German authorities for "their professionality and for their respect," and thanked his fellow inmates for "their solidarity and help for me to adapt quickly to the situation."
Blow to Madrid
Spanish authorities had issued an arrest warrant against Puigdemont for his involvement in a controversial Catalan independence referendum.
Read more: Opinion: Carles Puigdemont belongs in Spanish court
In a blow to Spanish authorities, a German court on Wednesday refused to extradite him on charges of high treason, the closest German legal equivalent to Spain's most serious charge of rebellion.
Extradition still on the table
However, Puigdemont may yet face extradition on separate charges of misusing government funds during his time in office.
The Schleswig prosecutor's office said Puigdemont was given an address in Germany, where he will reside until judges decide on Spain's extradition request.
Read more: Catalan independence: What you need to know
"No information will be provided about his current whereabouts," said prosecutors in a statement.
At a press conference, a German government spokeswoman reiterated Berlin's position that it will not interfere in the judicial process, saying: "The proceedings are in the judiciary's hands."
Fractured independence movement
Last year, the Catalan government orchestrated an independence referendum, which was outlawed by Spain's Supreme Court. The referendum saw just 40 percent voter turnout and was marred by police violence at some polling stations. Those who did vote overwhelmingly favored secession.
Read more: Catalan independence: Challenges ahead for Puigdemont and secessionist political unity
After the election, Catalan lawmakers declared unilateral independence from Spain. Prime Minister Mariano Rajoy's conservative government responded by dissolving the regional parliament and calling snap elections.
Since December's regional election, Catalan's separatist parties have failed to agree on a government, preventing them from further pursuing their independence agenda. Infighting has witnessed parties aligned with the separatist movement fracture despite retaining a combined absolute majority in the regional parliament.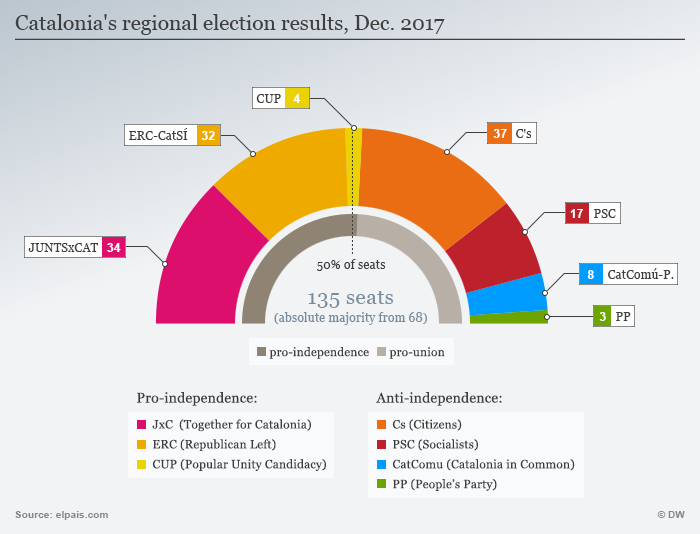 ls,es/msh (Reuters, dpa)