The controversial referendum on independence in Catalonia thrust President Carles Puigdemont into the international limelight.
But who is the man who vows to lead 7.5 million Catalans to independence?
Childhood
Stubborn but "honest and resilient," with childhood memories of Spain's Franco dictatorship until 1975, is how biographer Carles Porta characterizes Puigdemont.
The baker's son from the mountain village of Amer - about 100 kilometers (61 miles) from Barcelona - "learned to be a fighter" when sent to boarding school aged just nine, writes Porta.
Passionate about Catalonia and its heritage, he joined a nationalist Catalan party in his late teens.
Read more: How artists view Catalonia's independence crisis
Traffic accidents
Aged 21, Puigdemont survived a serious traffic accident in 1983, leaving him with facial scars covered by a hairstyle that still draws remarks, even in his own Catalan European Democratic Party (PDeCAT).
It is a fate shared with Mariano Rajoy, his arch-rival and Spanish prime minister. Rajoy has car accident scars under his beard; Puigdemont has forehead scars under the fringe of his brown mop of hair.
Read more: 'Disaster' looms in Catalonia independence crisis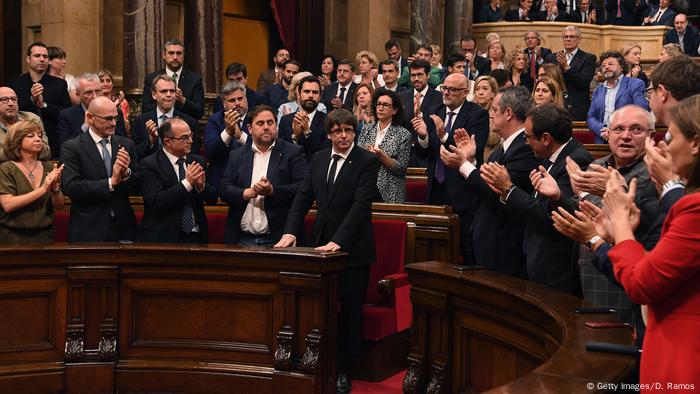 Carles Puigdemont came to global attention with his speech to parliament on October 10
Chief editor
By the early 80s, Puigdemont had studied the Catalan language and history and rose from sub-editor to chief editor of the nationalist newspaper El Punt Avui.
He also founded a Catalan news agency and an English-language newspaper on the region as well as publishing several books and essays.
His journalism was combined with activism for the PDeCAT's forerunner party.
"He has a great flair for showmanship and knows how to use the media," said political analyst Anto Losada.
Slovenian struggle
Puigdemont visited Slovenia in 1991, just after it had declared independence from former Yugoslavia – after a banned referendum and brief armed conflict.
His wife, Marcela Topor, comes from Romania, and Puigdemont is fluent in the language. The couple has two daughters.
Mayor of Girona
By 2001 Puigdemont had become the mayor of Girona, not far from his home village of Amer, and a regional parliamentarian.
In 2015, Mayor Puigdemont became chairman of an association of municipalities that favored Catalan secession from Spain.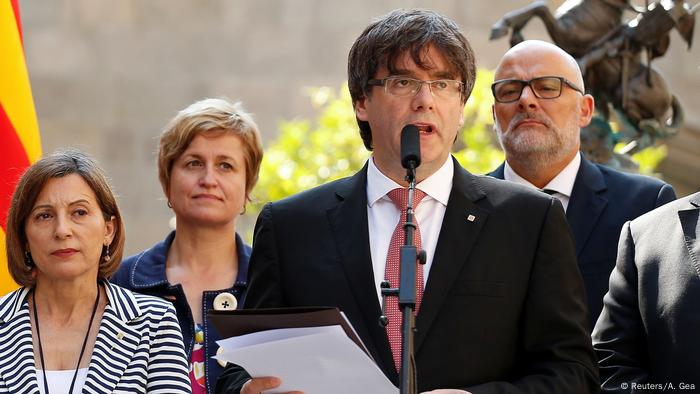 Puigdemont announced the referendum on independence on June 9, 2017
Replacement leader
In January 2016, still largely unknown in Spain, Puigdemont replaced the-then Catalan independence advocate Artus Mas as regional president.
Mas had become deeply unpopular with far-left separatists for austerity measures during Spain's severe economic crisis.
On inauguration day, Puigdemont said: "This is no time for cowards."
"I know we are launching a process that is neither easy nor comfortable, Puigdemont added.
Too reckless?
Some 21 months later, Spaniards and EU leaders opposed to Catalan independence accuse Puigdemont of recklessness that culminated in a referendum on October 1 that was banned by Spain's constitutional court and repressed by Spanish police.
More than 90 percent of those who voted favored independence, but turnout reached just 43 percent of the Catalan electorate in a ballot that fell short of electoral standards.
Puigdemont has said he is not afraid of going to jail over independence, while calling for EU mediation, which Rajoy has rejected.
Living in exile
Puigdemont had been living in exile in Belgium, before traveling to Finland on Thursday to meet with lawmakers from the Nordic country. He was detained in Germany on Sunday on his way back to Belgium.
The ex-Catalan president is being sought by Spain on charges of "rebellion" and "sedition" and has a European warrant against him.
ap, ipj/ng (AFP, Reuters, dpa)