A "constitutional collapse" — that is what ex-Catalan President Carles Puigdement, in an interview with Catalan radio on Friday, warned would happen should the Spanish state justice system block his hand-picked and currently imprisoned candidate from becoming the region's next president.
On Thursday, Puigdemont had announced from his self-imposed exile in Belgium that he would no longer seek to become Catalonia's president. Instead, he nominated Jordi Sanchez, an influential pro-separatist member of the regional parliament who has been in preventive detention since October on charges of sedition.
Beyond the legal question of whether Sanchez would be able to assume the post, his nomination by Puigdemont and the divided reactions that followed it raise the question of whether the Catalan independence movement's leadership and unity itself is collapsing from within.
Puigdemont to lead government in exile?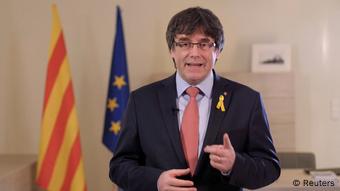 Puigdemont used Twitter to announce Sanchez as his choice for the next Catalan president
Puigdemont finds himself in a bind. He can't leave Brussels, where he has been since the end of October due to an arrest warrant for him in Spain. Additionally, the Spanish government announced on Friday that they are looking into whether he has been using public money to finance his stay in Belgium.
At the same time, Puigdemont led his party, Junts per Catalunya (JxCat), to take 34 seats in December's regional snap election, the largest share among pro-independence parties. He campaigned remotely and demanded the restitution of the "legitimate government" in Catalonia after his electoral win, with himself once again as the region's president.
The Spanish court ruled that he could not be president from Brussels, leading to yesterday's decision to tap Sanchez.
Yet, in the same video announcing this decision, Puigdemont also said that he would create a "Council of the Republic" in Belgium, a government-in-exile structure that would act alongside the Catalan government to push for independence. This announcement was criticized by the Spanish government, which said that any type of parallel structure would be ineffective.
Read more: Catalan leader Carles Puigdemont admits defeat, vows to fight on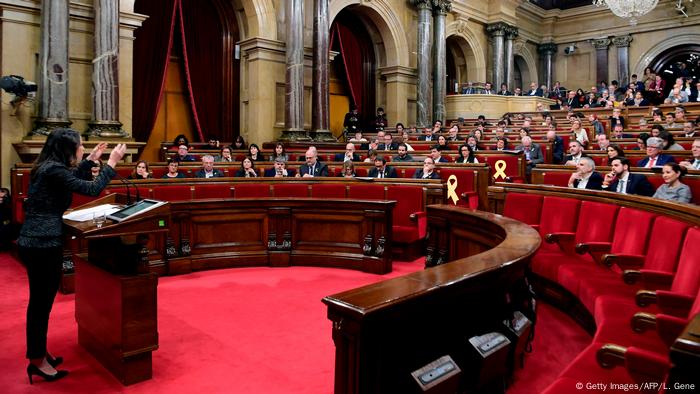 On Thursday the Catalan parliament debated Puigdemont's presidential investiture before he announced he would not pursue it any longer
'Not what Catalans had hoped for'
But Puigdemont's challenges also come from his fellow separatists.
The National Catalan Assembly (ANC), a prominent pro-independence civil organization, slammed Puigdemont for his decision to no longer seek to be the region's president — despite the fact that his would-be successor, Sanchez, used to head up the ANC.
In a statement posted Friday, the ANC said that Puigdemont's renunciation "was not what thousands of Catalans had hoped for" and reaffirmed that "the legitimate government has to be restored and the declaration of independence made valid." The statement added that the ANC would "always remain faithful" to causes advancing a Catalan Republic.
The ANC also announced a demonstration for March 11 to "demand that our government implement the Republic."
Pro-independence infighting?
Meanwhile, other pro-independence parties backing Puigdemont's parliamentary majority also expressed dissatisfaction at his choice of Sanchez. For many, the decision to put forth a jailed parliamentarian as future Catalan president may seem simply to be slowing the process of regaining regional control from Madrid and could distract from the independence project.
The leftist pro-independence Republican Left of Catalonia (ERC), whose 32 MPs are allied with Puigdemont's JxCat, said on Friday that Oriol Junqueras, Puigdement's former vice president and an ERC politician, should have been tapped instead of Sanchez.
"In terms of legitimacy, Oriol Junqueras would be better placed," ERC spokesperson Sergi Sabria told Catalan radio, arguing that Junqueras had been Puigdemont's number two at the time that Madrid took direct control. Puigdemont's choice had "broken a very defined line" on government legitimacy, Sabria added.
Some pro-independence parties want Junqueras to be the next president
In what would be a significant sign of division among the Catalan independence parties in parliament, the ERC signaled that it may still put forward Junqueras as its party's presidential candidate, Spanish news agency EFE said, citing ERC sources. However, that would do little to improve the expediency of government formation since Junqueras is in jail alongside Sanchez.
Another pro-independence party, the far-left Popular Unity Candidacy (CUP), is meeting tomorrow to discuss Sanchez's potential investiture. As parliamentary kingmaker with its four seats, the CUP is needed by the two more moderate independence parties if they want to maintain their current parliamentary majority.
A drop in popular support
The events leave the Catalan pro-independence movement at a decisive moment. Possible parallel structures, disputed executive leadership, looming legal battles and cross-party fighting threaten to weaken independence as a political force, as well as drown out popular support and unity.
The latest official polls on Catalan independence showed only 40.8 percent in favor of splitting from Spain, a drop from last October's high of 48.7 percent, while 53.9 percent oppose a split.
Read more: Barcelona and the Catalan question
Each evening at 1830 UTC, DW's editors send out a selection of the day's hard news and quality feature journalism. You can sign up to receive it directly here.