The Spanish government has won its appeal to the Constitutional Court to bar Catalonia's regional parliamentary session on Tuesday from considering Puigdemont's nomination as president of the region for the Together for Catalonia (JxCAT) coalition.
Pro-independence parties won a majority in the Catalan elections called by the Spanish government in December.
The new speaker of Catalonia's parliament, Roger Torrent, proposed Puigdemont as president and met with the deposed leader in Brussels, saying that he would "defend the political rights of all members."
Puigdemont must be present, with permission
The Constitutional Court ruled that Puigdemont could only attend the swearing-in session if he was physically present in the parliament building in Barcelona and had a judge's permission to be there. Otherwise, the parliamentary session would be suspended, the court ruled on Saturday.
In a unanimous decision by the 11 magistrates present, the court ruled Puigdemont's investiture would be suspended unless he had a judge's authorization "even if he is physically in the chamber." There has been speculation that Puigdemont might try to return to Catalonia from Belgium, where he has been living since last October with a number of his allies.
They had hoped to form a new Catalan government by appearing before the parliament via video conference or via a proxy.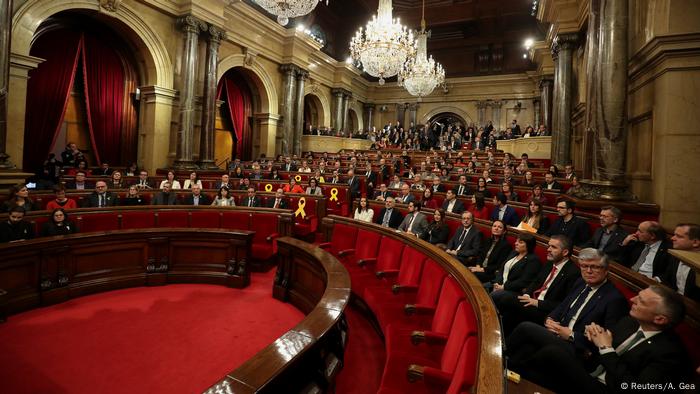 The Catalan parliament held its first session in January after the regional elections
Puigdemont in Belgium, facing charges in Spain
Puigdemont faces a vote of confidence on Tuesday as the region's only presidential candidate.
He also faces charges of rebellion and sedition rising from the illegal independence referendum he led last year. The Spanish government argued in its case to the court that a fugitive from justice could not become the head of the regional administration.
Spanish Deputy Prime Minister Maria Soraya Saenz de Santamaria said on Friday the government would use "all the instruments of the law" to prevent Puigdemont retaking the regional leadership.
"He lacks the necessary freedom of movement right that would allow him to do that, as he would be arrested as soon as he enters Spanish territory," she said.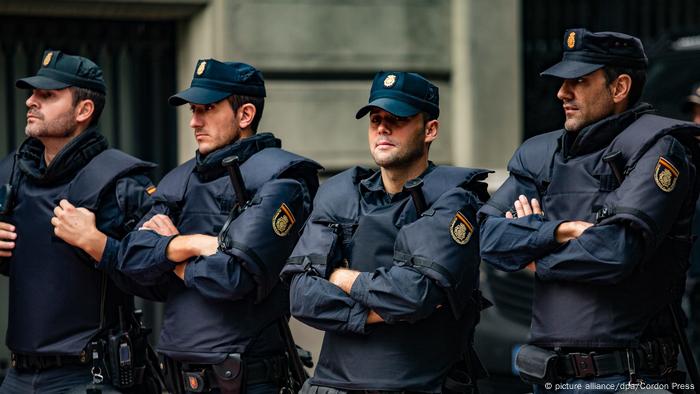 Thousands of Spanish Guardia Civil and national police officers were deployed to Catalonia for the October referendum
Speaking on television last week, Home Affairs Minister Juan Ignacio Zoido said a police operation was being prepared to prevent a surprise arrival in Catalonia by Puigdemont: "We'll try to prevent him getting into the parliament, even inside the trunk of a car," Zoido said.
But JxCAT said on Saturday there was no basis under Spanish law for Puigdemont to be barred from standing as president.
Puigdemont left Catalonia in late October when the Spanish government dismissed him and his ministers after the regional leaders declared independence from Spain. The Catalan ministers who remained were sent to jail and four pro-independence leaders are still in prison facing charges of rebellion that carry sentences of up to 30 years in prison.
jm/sms (AP, Reuters, AFP, dpa)