Palestinian President Mahmoud Abbas swore in a new government for the West Bank-based Palestinian Authority on Saturday, in a move criticized by the rival Islamist Hamas movement as a blow to reconciliation efforts.
Mohammed Ishtayeh will serve as prime minister in the new Palestine Liberation Organization (PLO) Cabinet stacked with loyalists from Abbas' Fatah party. Several smaller factions are also represented.
Other parties, including the Popular Front for the Liberation of Palestine and the Democratic Front for the Liberation of Palestine, refused to join the government out of concern it will hamper stalled reconciliation talks with Gaza-based Hamas.
The group, which has armed and political wings, took control of the Gaza Strip in 2007, a year after it defeated the PLO-affiliated Fatah party in parliamentary elections. Despite repeated attempts by Egypt to broker a power-sharing deal, Palestinian politics has been divided ever since.
Hamas said the new government dealt a blow to Palestinian unity.
"This is a separatist government, it has no national legitimacy and it will reinforce the chances of severing the West Bank from Gaza," the Islamist movement said in a statement.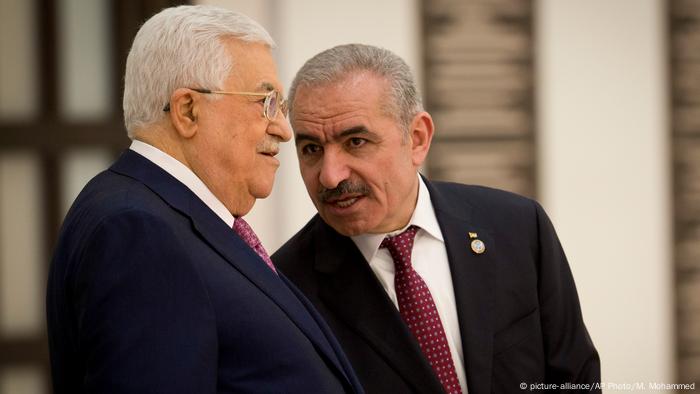 Mohammad Ishtayeh (R) is a longtime ally of President Mahmoud Abbas (L)
Read more: Gaza Strip: Hamas facing growing pushback
PA in financial crisis
The new government replaces the technocratic administration of Rami Hamdallah, who resigned in January. His government had the backing of all Palestinian factions and led reconciliation talks with Hamas.
The new 24-member Cabinet includes five ministers from the last government, among them Foreign Minister Riad Malki and Finance Minister Shukri Bishara.
Ishtayeh, a trained economist who had been a minister in previous governments, faces numerous challenges in running the Palestinian Authority, which has limited self-rule under Israeli military occupation.
His immediate task will be to address a deep financial crisis triggered by US aid cuts and Israel's decision to withhold 5 percent of the tax revenues it collects on behalf of the Palestinians.
Israel froze the tax transfers earlier this year over Palestinian Authority payments to the families of Palestinians jailed in Israel or killed by Israeli forces. Israel says the payments promote Palestinian violence.
US peace plan dead on arrival
The new government comes to power as the administration of US President Donald Trump is expected to releases its long-delayed peace plan. Analysts say divided Palestinian politics will enable Israel to argue it has no willing counterpart to negotiate a peace agreement, after repeated attempts have failed due to intransigence on both sides.
The Palestinian leadership is concerned that the peace plan will allow Israel to retain major settlement blocs in the West Bank and East Jerusalem, which the Palestinians want as the capital of a future state.
Those fears were heightened after Israeli Prime Minister Benjamin Netanyahu, who is likely to form a right-wing government following April 9 elections, promised to annex Jewish settlements in the West Bank if he was re-elected.
Read more: Israel faces old reality of Benjamin Netanyahu victory anew
Such a move would effectively end the prospect of peace with the Palestinians. Critics say annexation of all or parts of the West Bank would challenge Israel's character as both Jewish and democratic.
US-Palestinian ties have been severed since Trump moved the US Embassy from Tel Aviv to Jerusalem and recognized the contested city as Israel's capital last year.
Speaking to the new Cabinet members, Abbas repeated his rejection of Trump's peace plan and urged the government "to fight the (Israeli) occupation with all legal means."
He also called for "peaceful popular resistance" to Israeli occupation and said Israel would face "consequences" if it did not withdraw from the West Bank.
UN special Middle East peace envoy Nickolay Mladenov welcomed the new government and hoped it would "overcome internal divisions."
"The United Nations remains fully committed to working with the Palestinian leadership and people in ending the occupation and advancing their legitimate national aspirations for statehood based on UN resolutions," said Mladenov.
cw/amp (AFP, AP, dpa, Reuters)
Every evening, DW's editors send out a selection of the day's hard news and quality feature journalism. You can sign up to receive it directly here.