This commentary could be worded exactly like the commentaries on the chancellor's past eight trips to Beijing. Was Angela Merkel outspoken enough on human rights, did she meet with artists and lawyers who are under threat, did she condemn the new repressive NGO legislation, did she demand free access to markets for foreign investors and did she criticize the Chinese steel industry's surplus capacities and dumping prices? She was, and she did.
Step in the right direction
That's the present. The future could be glimpsed, quite unexpectedly, in the joint final declaration. Chapter 2 is about "Cooperation in third countries and on third markets." A first trilateral project - on disaster management and a university-level cooperation on coal mining - involving Germany and China has been launched in Afghanistan. That may seem like a small step, but for China, a country that normally follows strict noninterference policies, it's a new direction. The German side's plan is to get China involved and to use its influence - a strategy that already worked in the nuclear talks with Iran.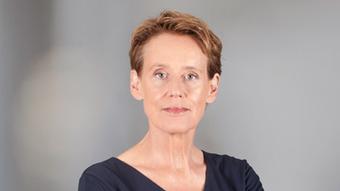 DW's Dagmar Engel
New dimension of market power
Concerning cooperation in third country markets, Germany's idea is to include China, use its economic power - and make money.
Just one example: If the China Railway Rolling Stock Corporation (CRRC) and Siemens join forces on high-speed trains in third countries, flanked by the China Railways Group and Deutsche Bahn in the fields of Chinese-European freight train transport and the service and maintenance of high-speed trains, that means a market power of entirely new dimensions.
A look ahead shows the Chinese have ideas, too: the transfer of technology, learning a lesson from the German side's superior image in third markets, making money and then continuing on their own. That's what might happen - it's a pattern that German businessmen have complained about often enough.
Germany cannot prevent that development single-handedly. The European Union is big enough, but it would need a common strategy on China. At present, every country is taking care of itself first and foremost, a situation China knows to take advantage of. And just because China respects Angela Merkel and the German economic powerhouse, that doesn't mean the goals are any different. Divide and conquer - EU heads of government including the German chancellor should counter the strategy with, Together, we're unconquerable.
Have something to say? Add your comments below. The thread closes automatically after 24 hours.
Try our new app for iOS and Android.