In a speech to the Chinese Academy of Sciences in Beijing Sunday, Merkel said: "No one is interested in increased trade wars. But we must also talk openly about the remaining issues." The chancellor was referring to China's overproduction of steel, which is being dumped on the international market.
Warning that overcapacity was causing a big headache for Europe's steel industry, she told the audience that "we must have a level playing field."
China has promised reforms of its heavy industries, but several countries claim Beijing is stalling, because the changes will result in the loss of hundreds of thousands of jobs.
Beijing is urging Brussels to recognize it as a market economy - a pledge that was made when China joined the World Trade Organization 15 years ago. The confirmation is expected in late 2016, but some EU states are hesitant to change the bloc's trading status, given China's ongoing overproduction in several sectors.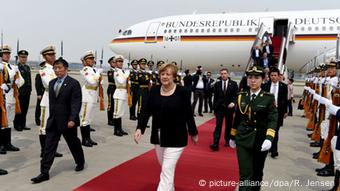 Merkel arrived in Beijing on Sunday
Several issues raised
Merkel also called on Beijing to play a larger role in solving international crises, telling her student audience that "economic strength brings a greater responsibility." She urged China's leaders to maintain the rule of law domestically and internationally, referring to territorial disputes with neighbors in the South and East China Sea.
The German leader also called for an improved legal framework in China to allow German companies to invest more easily in the country. She also raised concerns from Germany's IT sector about Chinese cyber espionage, adding that closer cooperation could only be achieved if the issue was tackled.
Merkel arrived in China on Sunday for the fourth Sino-German joint cabinet meeting, attended by ministers from both sides. Following her speech, she was due to meet Chinese premier Li Keqiang at Beijing's Summer Palace.
The German leader is also expected to raise human rights issues with Chinese leaders, following the crackdown on activists and rights lawyers, many of whom have been detained since last summer.
The relatives of former Deutsche Welle journalist Gao Yu have asked Merkel to raise her case with Beijing. The 71-year-old correspondent, who was found guilty of espionage in April 2015, has requested permission to travel to Germany for medical treatment, which has so far been denied.
mm/rc (dpa, Reuters)