Gao Yu's brother Wei expressed hope Saturday that the German chancellor would raise the case in Beijing, "so these problems can be resolved as soon as possible."
Gao Yu, who has worked for DW, was convicted in April 2015 of leaking state secrets. The longtime Communist Party critic is currently under house arrest on medical parole. The journalist suffers from heart problems and has no pension or access to long-term support in China. She has a passport and a German visa, but despite multiple offers of aid from Germany, China has rejected pleas to let her leave the country.
Chancellor Merkel travels to Beijing later on Saturday with six of her ministers and five permanent secretaries for the fourth Sino-German joint cabinet meeting on Monday.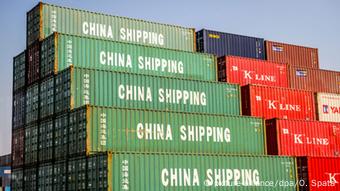 German firms are worried about slowing growth in China
Human rights
Ahead of the trip, Michael Brand, the German chair of the parliamentary committee on human rights, urged Merkel to press Beijing on its human rights record.
"Dialogue is absolutely important, but dialogue is not an end in itself," Brand said. "When partners like China, Russia or Turkey cross red lines, the German federal government must show a stop sign that will also be understood as such."
Beijing refused to issue Brand a visa in May because he had not obeyed a demand from the Chinese ambassador in Berlin to remove articles critical of China from his home page.
In her weekly podcast on Saturday, Merkel said she also planned to push for Beijing to soften its stance on NGOs. A Chinese law set to go into effect in 2017 forbids foreign foundations from financing or engaging in "political activities." Merkel said the work of many such groups helped bring China and Germany closer together and should not be hindered by the legislation.
German industry in trouble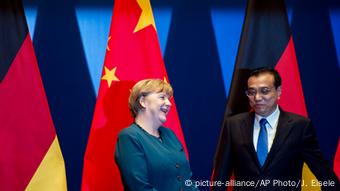 Merkel is traveling to Beijing for the ninth time since taking office
Merkel said the steel production crisis facing many European countries will also be on the agenda. China now produces about 50 percent of the world's steel, creating a difficult situation for EU states struggling to compete. Germany's industry is seeking additional protections from dumping and for China to reduce its overcapacity.
A large delegation of CEOs from Volkswagen, BMW, Siemens, Lufthansa and Airbus is expected to accompany the chancellor. German firms have increasingly raised concerns about barriers to foreign companies in China, as well as the implications of a decline in exports to China.
Merkel is to dine with Chinese Premier Li Keqiang on Sunday and President Xi Jinping on Monday. In between, she and Li will attend a meeting with business leaders, where German firms are expected to voice their frustrations with conditions in the Chinese market. On Tuesday, Merkel is due to travel to the northern "rust belt" city of Shenyang to visit a BMW plant.
nm/bk (Reuters, dpa)