DW: Garo Paylan is a lawmaker of Armenian descent in Turkey's parliament and a member of the pro-Kurdish Peoples' Democratic Party (HDP). He claims that Turkish academics, journalists and literary figures who have fled the governing Justice and Development Party (AKP) of President Recep Tayyip Erdogan are in grave danger, particularly those who have come to Germany. Paylan says they could fall victim to attacks plotted out of Turkey. What is your take on this?
Cem Özdemir: I have no information about this; so there is little I can say concretely on the matter. But it wouldn't surprise me given that Hrant Dink, a Turkish-Armenian journalist and a good friend of mine, was killed by a 16-year-old [in Istanbul] — and it's known that the Turkish state played a role in this murder. Then you also see how Turkish dissidents are not only jailed, silenced or expelled but also intimidated and subjected to physical violence. Germany should be aware of this and above all else prevent the growth of separate societal structures. Some examples of this already exist, such as Osmanen Germania, a Turkish-nationalist boxing gang, or the Union of European Turkish Democrats (UETD). [Editors' note: The UETD is considered to be the AKP's external lobby group.]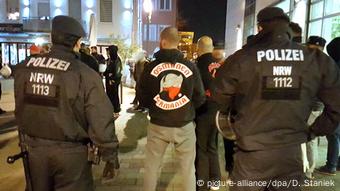 Members of the Osmanen Germania group have been arrested and face charges of attempted murder, among other things
Do you think people with aTurkish background in Germany are in actual danger?
Journalists are always asking me about this, including German ones who have information on the topic. Curiously, Germany's security agencies rarely approach me about this. I have to approach them myself. I'm under the impression that our security apparatus could be improved when it comes to the danger from Turkey. I don't mean that with regard to my own safety but with regard to the safety of all Turkish dissidents who've fled to Germany. There are many journalists, intellectuals and academics who've come to Cologne and Berlin, in particular. I recently attended an event by Turkish-Armenian journalist and blogger Hayko Bagdat, who has become a well-known figure in Berlin. He wore a bullet-proof vest because he'd received credible death threats a day earlier. I think we must make it clear that Germany will not tolerate such a climate of fear. It's bad enough that such fear already pervades Turkish society.
Read more: Political author attacked at Istanbul Book Fair
The police has informed DW that it is aware of "the dangerous situation" but that it cannot provide "details about specific security measures." Thousands of individuals have fled Turkey and come to Germany. There is supposedly even a "hit list" with dissidents' names on it. How can these individuals be protected?
It starts with little things. Turkey is placing dissidents on Interpol's list of wanted suspects. That constitutes a total abuse of this system. Interpol's wanted persons list is for terrorists and criminals only. Not for people who happen to have a different opinion. What happens to individuals who're put on the watch list? Are they informed of this? Are other EU member states informed that these individuals don't belong on the list and that nothing should happen to them? Or will they share the same fate as Dogan Akhanli, the Turkish-German writer who was recently detained for several months in Spain? It is time to realize that information like this from Turkey cannot be taken at face value. It needs to be treated with caution and checked rigorously. This is information originating out of an authoritarian country.
You've said that journalists have informed you about potential dangers. You're a politician with Turkish roots. Have other people of Turkish background in Germany told you about threats?
No. But there was an instance where a local Green politician attended a UETD event and was told to come into an adjacent room before things got going. He was told that people know where he lives, that they know about his family, and that he should chose his words carefully at the event. Then they told him he shouldn't rely on the German state for protection. Now this politician is too intimidated to speak out publicly. He's scared for his safety in this country. That is an intolerable state of affairs. We cannot tolerate that these sorts of parallel structures from a foreign nation exist within Germany.
What should Germany's government do if its security apparatus confirms threat allegations? How could these people be protected?
I'd take the same approach we take with right-wing and left-wing extremists. I'd break up the responsible groups and make it crystal clear that the behavior of groups like the Osmanen Germania gang will simply not be tolerated. It's perplexing that groups like these are free to sow fear and nothing is done to stop them. That raises many questions.
It has been claimed that Turkey plans to send assassins to Europe. What can be done to ensure safety?
Germany has a security service, a counterintelligence department, which is responsible for dealing with this. And hopefully it will make it clear to Turkey that we won't tolerate its actions and that if anything happens, there will be severe consequences. But that of course means we must be willing to adopt a tough stance.
Cem Özdemir is the co-leader of Germany's Green Party. He was elected to the German parliament for the first time in 1994 as one of the first two representatives with Turkish-born parents.