The first day of the 36th Istanbul Book Fair has been marred by violence after unknown assailants physically attacked Turkish author Sebahattin Onkibar in the Kirmizi Kedi (Red Cat) publishing house's stall on Saturday.
Onkibar was promoting his recent publication "Asena," which describes the political career of Meral Aksener. She is the leader of the recently founded nationalist, conservative and centrist party called the "Good Party," and is known as a possible challenger to Turkish President Recep Tayyip Erdogan. Recent surveys put her at about 20 percent of the vote. Only a week after its release, "Asena" sold 20,000 copies, and a second edition of the book has already been published.
The author, Onkibar, was signing copies of the book on Saturday when he was attacked by several people who had been standing in the queue.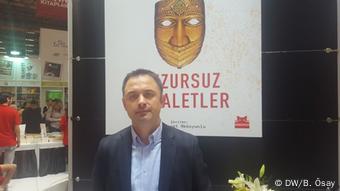 Salih Yavuz, from Kirmizi Kedi (Red Cat) publishing house
Salih Yavuz, manager of sales and marketing at Kirmizi Kedi, described the incident to DW: "We started the autograph session at 1 pm. Around 15-20 minutes later, a group of young people arrived. The man at the front of the queue handed his book to Onkibar. The author asked what his name was and the man replied "Alper" and then said to the author: 'Who got you to write this book?' He attempted to punch Onkibar but missed. This made him very angry and he jumped up on the stand and came in. Our team responded by trying to stop him and as a result of that, around 20-25 people behind him attacked our stand. There was uproar for a couple of minutes, in which two of our friends were injured."
Yavuz pointed out that the attackers left the hall without any problems and added: "Security arrived at the scene pretty late, about 15 minutes after the incident. By the time they arrived, the attackers had already left."
According to Yavuz, the same author had been targeted previously due to another one of his books about Devlet Bahçeli, the leader of the Nationalist Movement Party (MHP), with whom Aksener parted ways to found the Good Party.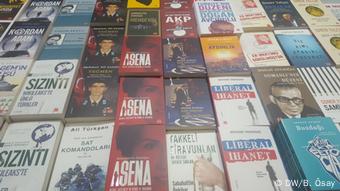 "Asena," by Sebahattin Onkibar, has been selling very well
'Intolerance on the rise'
"We are not surprised that intolerance towards a book or opinion flared up today," Yavuz said. "In times like these, in which books get withdrawn without having been published, it is no surprise that such attacks would take place against published books and their authors. We are doing what is necessary as a publishing house. We believe that it is not a crime to publish books that are worthy of publication and to support authors in making a living."
Yavuz added that they will not be withdrawing "Asena," which he said is an objective work. "There is apparently no tolerance with regard to praising or criticizing Aksener."
Censure from publishers association
The Turkish Publishers Association has condemned the incident. In a press release they stated: "Freedom of speech and publication is an irrevocable right that must be protected. Any kind of intervention, or the failure to bring the perpetrators of rights violations to justice, cause and encourage further violent incidents. Any kind of hindrance and intervention towards authors and publishing houses violates the right to live in a democratic society."
The president of the Turkish Publishers Association, Kenan Kocaturk, told DW: "Just like we are against hate crimes, we are utterly against these kind of violent incidents as well. There have been attacks on publishing houses before. The attackers, who were detained by the police and brought to the prosecutor's office, were released. We hope that this will not be repeated this time. We hope that those who were involved in the attack at the book fair will be found as soon as possible and brought to justice."