It was the summer of 1942 when medical students Hans Scholl and Alexander Schmorell distributed the first four of six "Leaflets of the White Rose" in the German city of Munich.
The leaflets expressed anger and astonishment over the apathy of Germans at the time, stating that everyone not actively engaging in the liberation of the Germans from the Nazi dictatorship was equally guilty of its crimes.
Their small movement, the "Weisse Rose" (White Rose), remains a symbol of resistance to this day, with its name decorating many squares and streets in nearly every German city, and schools across the country named after its members.
Now, as part of the 50-year anniversary of the start of diplomatic relations between Germany and Israel, a new exhibition aims to shed light on the underground group's activities, as the story of the German students is barely known in the small Middle Eastern country.
"I think it's extremely important, especially these days, to show the public that people can resist and criticize their government if they feel it is engaged in wrongdoings," Sharon Cohen, an Israeli mother of two who took her 14 and 16-year-old children to the exhibition, told DW.
"I don't think that any country today is nearly as cruel as the Nazis were, but the message is still relevant," she says. "The stories of the White Rose members are hardly heard of in Israel, and I think my children will only benefit from reading them," she adds.
"They can see for themselves that people did stand strong for a goal they believed in, even if it was doomed to fail and even if it cost them their lives. They stood for humanity and against evil."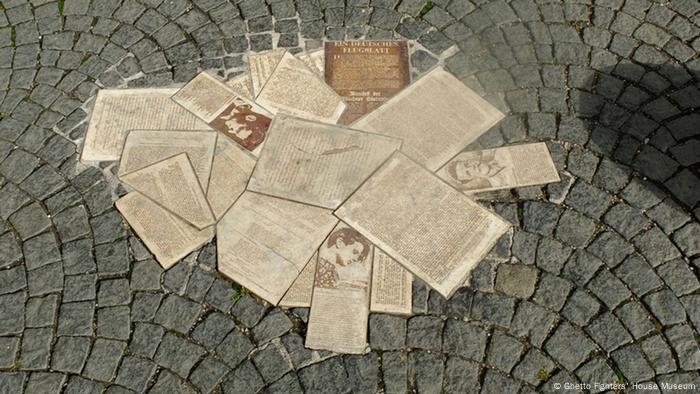 Scattered leaflets outside the Ludwig Maximilian University in Munich, commemorating the White Rose
The actions of the White Rose resistance group, which was initially formed at the Ludwig Maximilian University in Munich, had little effect, if any, on weakening the Nazi regime, but its members' courage in opposing such tyranny stood out like a beacon of hope for a different Germany.
During nights, Scholl and Schmorell, later joined by other fellow students such as Willi Graf and Scholl's younger sister Sophie, wrote slogans such as "Hitler Mass Murderer" or "Freedom" on public buildings in Munich, using tar paint.
In early February of 1943, their university professor Kurt Huber wrote the sixth leaflet, an appeal to all students to oppose the murderous government. It was distributed inside the university's main building on February 18 by Hans and Sophie Scholl.
The previous fifth leaflet, named a "Call to all Germans!," was published in January 1943 and distributed in many German and Austrian cities.
The courage to resist
The "White Rose" exhibition, displayed both in Hebrew and Arabic at the Israeli Ghetto Fighters' House Museum, shows pictures of the underground movement and its members, explains their activities, presents pamphlets written and distributed by them and stresses the heavy price paid by Germancitizens who tried to resist the Nazis.
Along with educational activities conducted for high school students, the exhibition focuses on the social responsibility demonstrated by the White Rose members and their willingness to follow their conscience in the name of humanistic values, risking and eventually sacrificing their lives, unlike the great majority of German society at the time.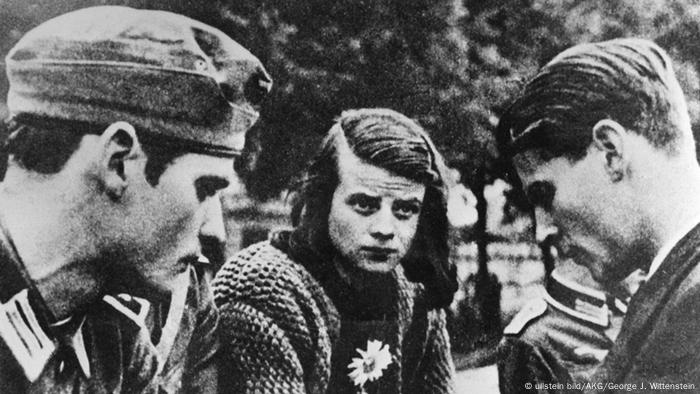 Hans Scholl (l.), Sophie Scholl and Christoph Probst, among the few Germans who resisted the Nazi regime
In their second leaflet, for example, Scholl and Schmorell denounced the murder of the Jewish population in Poland, writing that "we are witnessing the most terrible crime against human dignity, a crime unprecedented in all history of mankind."
In the fourth leaflet they threatened: "We will not be silent, we are your guilty conscience, the White Rose will not leave you any peace."
'They were heroes'
The resistance group's political agenda, as stated in one of their pamphlets, called for "freedom of speech, freedom of religion, protection of each individual citizen against the despotism of violent regimes as foundation of a new Europe," but its members didn't stand a chance.
On February 22, 1943, Hans and Sophie Scholl, together with fellow student Christoph Probst, were sentenced to death and murdered by guillotine at the Munich Stadelheim prison.
Other police investigations followed, and later on that year Alexander Schmorell, Willi Graf and Professor Kurt Huber were sentenced to death and executed.
"I think it's very sad, but they were heroes," Cohen's 14-year-old son told DW. "I liked the exhibition, but it also gave me a point of view which is not very pleasant to think about. It left a heavy rock in my stomach."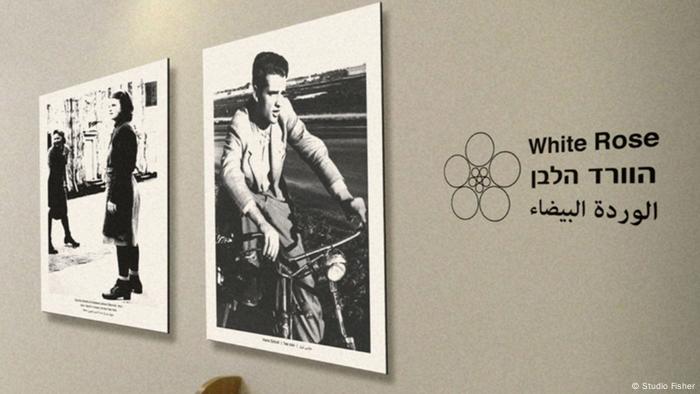 "Today the White Rose represents values such as independent thinking, freedom and tolerance," reads one of the signs in the exhibition. "Their timeless legacy is a call for the protection of human rights and the fight against discrimination, racism and violence."
For Cohen, these words were very powerful.
"I'm happy I brought my children to see how honest people stood strong for what they believed in against all odds. I hope they can learn something from it for the future," she says. "Perhaps even for the present."