NATO Secretary General Jens Stoltenberg said ahead of Wednesday's visit to South Korea that North Korean missiles have the range to strike Europe, but that "NATO has the capabilities to respond to any threat."
The military alliance is not directly involved in attempts to resolve the North Korean crisis, but "fully supports its allies in the region," he added.
"We recognize that Europe has also entered the [North Korean] missile range and NATO member states are already in danger," Stoltenberg told the Yomiuri Shimbun newspaper.
"NATO has protected its member countries from the threat of ballistic missiles through deterrence," but more diplomatic effort is needed to find a peaceful solution to the conflict," he added.
Stoltenberg visited Japan on Monday and Tuesday, where Prime Minister Shinzo Abe said Japan would maintain pressure on Pyongyang.
What are the UN sanctions?
The UN Security Council adopted a US-drafted resolution in September to impose new sanctions on North Korea, a week after Pyongyang carried out its sixth and largest nuclear test.
The resolution was aimed at:
- Capping North Korea's oil imports
- Banning textile exports
- Ending additional overseas laborer contracts
- Suppressing smuggling
- Stopping joint ventures with other nations
- Financially damaging North Korean government entities.
China – South Korea resume ties
China and South Korea issued a joint statement on Tuesday agreeing to reset relations. China said it would dismantle a year-old unofficial economic blockade against South Korean companies.
The break in ties came after Seoul and Washington agreed to deploy a missile defense system to counter North Korea's nuclear program.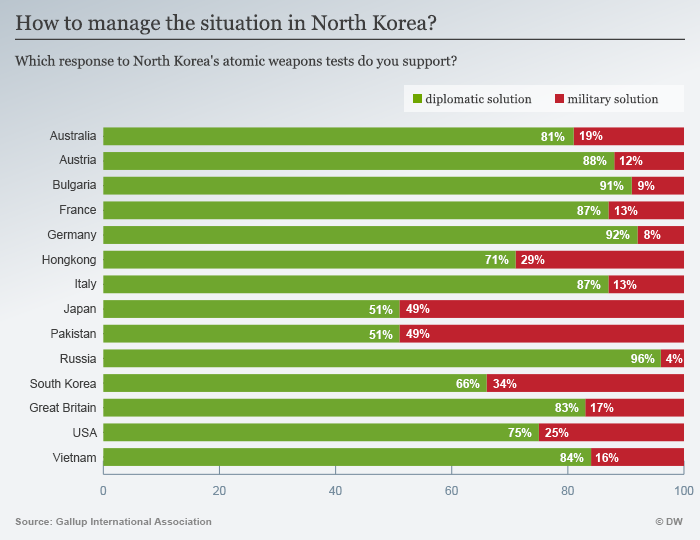 South Korea said this week it will continue its plans to deploy the Terminal High Altitude Area Defense (THAAD) platform to counter the threat of North Korean nuclear missiles.
China and South Korea agreed to disagree on the issue.
"The two sides attached great importance to the Korea-China relationship and decided to push for the further development of the strategic co-operative partnership," South Korea's foreign ministry said in a joint press release.
An Asian diplomat told the Financial Times that a factor in China's decision was the conclusion of the 19th Communist party congress in October, which gave Beijing more room to manoeuver. A Chinese concession would not have been feasible ahead of the meeting, he said.
The US State Department reportedly welcomed the decision.
North Korea has test-fired a series of missiles this year, including intercontinental ballistic missiles (ICBMs) that could in theory reach the US mainland.
"We encourage North Korea and the US to carry out engagement and dialogue," Chinese Foreign Ministry spokeswoman Hua Chunying told reporters, adding that she hoped talks could help return the issue to a diplomatic track for resolution.
US Secretary of State Rex Tillerson said on October 17 he would continue "diplomatic efforts ... until the first bomb drops."
Meanwhile, Democratic US senators introduced a bill on Tuesday they said would prevent US President Donald Trump from launching a nuclear first strike on North Korea on his own.
Trump won't visit DMZ
Trump meanwhile will not go to the demilitarized zone (DMZ) on the border of North Korea and South Korea during his Asia trip next week, a senior administration official said on Tuesday.
"There is not enough time in the schedule," the official told reporters. "It's becoming a little bit of a cliche, frankly." Instead, he will be the first American president to visit Camp Humphreys, a military installation south of Seoul.
jbh/rt (Reuters, AP)