"The system is not a threat to Russia. It also doesn't change the strategic power balance." That message has been repeated by NATO General Secretary Anders Fogh Rasmussen on numerous occasions.
The western military alliance is prepared to confirm this in a political declaration to Moscow, Rasmussen explained following a meeting with NATO's foreign ministers in Brussels in mid-April this year.
Parts of the planned missile defense shield should be in use by the time of the military alliance summit in Chicago on May 20 - 21. But Russia feels threatened by the system and negotiations have ground to a halt.
The problem appeared to have been resolved at the NATO summit in Lisbon in November 2010. Then-Russian President Dmitri Medvedev explained that his country wanted to work together with NATO in providing a missile defense system. The long-term aim of a strategic partnership was agreed.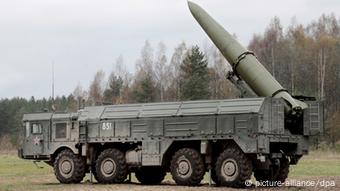 Soon to be stationed on the EU border? Short-range Iskander missiles
But just one year later the tone had changed. In the fall of 2011, Medvedev said Russia felt threatened by the plans and called for binding security guarantees. Should no agreement be reached, Medvedev threatened to station short-range Iskander missiles in its Kaliningrad exclave on the Baltic coast - surrounded by European Union members.
NATO missiles on Russia's doorstep
The Iskander missiles can be armed with nuclear warheads. Whether or not it would ever come to that remains to be seen, but Medvedev's successor Vladimir Putin will definitely not be traveling to Chicago as planned. That means that a summit between Russia and NATO will not take place. Moscow says this is due to time constraints, but western experts see it as a signal that negotiations have so far failed to reach any settlement.
In Chicago, government leaders from the 28 NATO member states want to announce the conclusion of the first of four phases in the building of the missile defense system, with final completion expected by 2020.
The US want to secure themselves and their European allies against possible missile attacks from countries such as Iran and North Korea. A network of radar units and anti-ballistic missiles have been planned, with a number of defense bases stationed in Eastern Europe, including in Poland, which shares a border with the Kaliningrad region.
Old dispute with Washington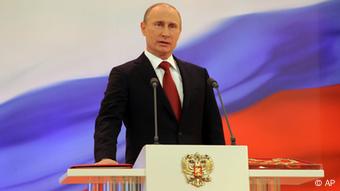 President Putin believes the balance of military power is threatened
These plans are viewed with mistrust in Russia. In an article published during the presidential election campaign in February, Putin wrote that the planned missile defense system in Europe, led by the US, was a concern for Russia's strategic atomic weapons systems and disturbed the decade-long military and political balance. Moscow's response would be "effective and asymmetric," he added, before arguing that it would be too expensive and ultimately ineffective to develop their own missile defense system. He said it would be better to deploy weapons that could overcome such a system.
For many years now, Russia has been reluctant to go ahead with a missile defense system. When Washington began to toy with the idea in the 1990s, Russia looked on critically. In 2001, US President George W Bush canceled the anti-ballistic missile treaty from the Cold War era concerning limitations on anti-missile defenses. The Kremlin, led then as now by President Vladimir Putin, warned that there would be serious consequences.
But in 2007 he made his American counterpart a surprising offer: a joint anti-missile defense system and the use of radar units in Azerbaijan on the border with Iran. But the offer was not taken up. Next, US President Barack Obama put his predecessor's plans on ice, looking forward to a "reset" in US-Russian relations. But since then the Obama administration has been pushing for progress in NATO's missile defense system.
A threat to Russia?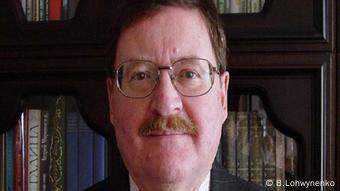 Russian defense advisor Vladimir Kosin is against the NATO plans
The question of how much of a threat the system would actually be to Russia is heavily disputed among experts. Vladimir Kosin, advisor to the Russian parliament on security issues, believes Russia's fears are justified. The US "Standard Missile 3" is said to be capable of intercepting Russian ballistic missiles, he said.
Kosin doesn't believe that the NATO system is there to protect against a possible Iranian attack. "If Washington really wanted to curtail the Iranian threat, it would make sense to put the anti-missile defense systems somewhere in the Persian Gulf, not in Poland and Romania or in the seas on the border with Russia," he said.
Independent Russian military expert Alexander Golz sees things differently. He believes that the proposed NATO system would hardly be a problem for Moscow if it suddenly chose to attack western Europe. He believes the planned system could intercept a couple of Russian missiles at most, but Moscow has over 1,500 viable nuclear warheads at its disposable.
Heated rhetoric, cautious politics
And Golz does not think Russia would actually resort to any form of military retaliation. "One must recognize that although Putin has engaged in a very militaristic rhetoric over the last few years, he hasn't actually undertaken any measures which could be viewed as raising the threat for the West," he said. Putin is likely to continue this policy following his return to the Kremlin.
Latest developments appear to confirm that. The dispute over the missile defense system has not stopped Russia from cooperating with NATO on other issues. According to media reports, the western alliance plans to use a railway transit station and an airport base in the Russian city of Ulyanovsk on the Volga when they withdraw troops from Afghanistan. Russian communists are already complaining about a "creeping aggression" of "enemy" western forces in Ulyanovsk - which happens to be, among other things, the birthplace of Lenin.
Author: Roman Goncharenko / hw
Editor: Ben Knight