Xi Jinping could see his theory enshrined into the constitution of China's Communist Party alongside the philosophies of presidential predecessors Mao Zedong and Deng Xiaoping. He opened the party's twice-a-decade congress — during which he will likely receive a second term — on Wednesday with a speech pledging to build a "modern socialist country" for a "new era" and laying out his vision for a prosperous China.
The official news agency Xinhua reports that Zhang Dejiang, Yu Zhengsheng and Liu Yunshan — officials on the president's Politburo Standing Committee — praised "Xi Jinping Thought on Socialism with Chinese Characteristics for a New Era."
"The Thought is the biggest highlight of the 19th National Congress of the Communist Party of China and a historic contribution to the party's development," Zhang told a panel on Wednesday, Xinhua reports. Yu called Xi's philosophy important to the "system of theories" of Chinese socialism. Liu said the "elevation of the 'Thought' into the party's guiding principle" would prove significant.
Few remaining rivals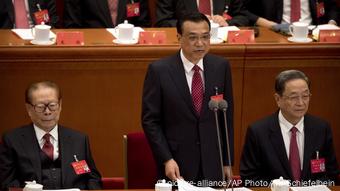 Premier Li Keqiang (center) speaking during the opening session of Congress
Though Premier Li Keqiang will likely stay on the Politburo Standing Committee, the others intend to step down during the congress, giving the party a new slate of officials to serve under the 64-year-old Xi. Since assuming leadership in 2012, Xi has busted 1.5 million party officials, including many rivals, for corruption, all but ensuring that the new appointments to the committee will be the president's allies.
Earlier in October, the Central Committee, the largest of the party's elite ruling bodies, had passed a proposal to amend the constitution, though without specifying how. The party gave Xi the title of "core" leader a year ago — a significant strengthening of his position ahead of the congress. As president, he has restructured the military and begun asserting the country's rising might in Asia and far beyond — a display of dominance that will likely grow even more demonstrative after the congress.
In his marathon opening speech on Wednesday, lasting over three hours, Xi set bold long-term goals for China's development, envisioning the country as a "basically" modernized socialist country by 2035 and a "strong power" with leading influence on the world stage by 2050. One section of his speech mentioned "arming the whole party with the thought on socialism with Chinese characteristics for a new era" — placing the concept in the framework of the "thoughts" and "theories" associated with previous leaders.
mkg/msh (Reuters, AFP, AP)