Moldova's Foreign Ministry expelled five Russian diplomats on Monday, according to the Russian ambassador to Moldova, Farit Mukhametshin. It follows allegations that a Moldovan diplomat passed state secrets to an attache of the Russian embassy.
The Foreign Ministry declared the Russian diplomats "personae non gratae" in a note to Mukhametshin, giving the diplomats had 72 hours to leave Moldova. The ambassador confirmed he received the note but declined to give a further comment.
The names of the five expelled diplomats have not been publicly released. No reason has been given for the ambassadors' expulsions.
Tussle between government, president
The move comes amid heightened tensions between pro-Russia president Igor Dodon and his pro-European government. Dodon was furious at Monday's announcement, blaming western powers for the move which he called "a disgusting gesture against our strategic partner," Russia.
"This has most likely been done on orders from the West, maybe even from across the ocean, by those who are worried that a constructive and effective dialogue has finally been found between the presidency and the Kremlin," said Dodon in aFacebook post.
"This crude step will not be left without negative consequences," added Dodon, who was elected in November.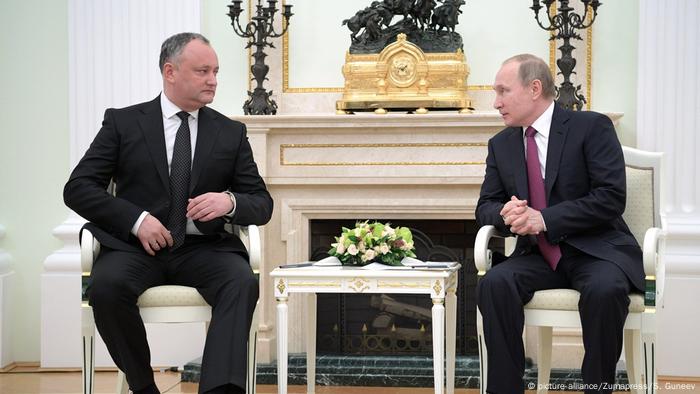 President Igor Dodon with President Putin in Moscow in January
Russian response
Russia has not yet responded but deputy foreign minister Grigory Karasin said there would be a "very hard" response.
In March, Moldova accused Russian intelligence of intimidating Moldovan officials as they traveled to or through Russia. Moldovan officials claim the intimidation stems from a Moldovan probe into a Russian-led money laundering operation.
In April, Dodon accused the government of accepting hundreds of millions of euros in funds from the EU between 2007 and 2015.
Moldovan Prime Minister Pavel Filip, who usually supports the EU, denied the accusations. Filip told DW that Dodon's allegations were "populist and unrelated to the reality on the ground."
Dodon this year declared that he would be keen to cancel Moldova's EU association agreement and reestablish a relationship with Moscow, a move condemned by the country's pro-Western politicians.
kbd/jm (AFP, AP, Reuters)