German Chancellor Angela Merkel faced the press on Wednesday afternoon, confirming reports that she had decided who she wanted in her new-look cabinet after the resignation of Defense Minister Karl-Theodor zu Guttenberg.
"Today, I have told the German president that I will recommend [Interior] Minister Thomas de Maiziere for the defense portfolio, and Hans-Peter Friedrich as new interior minister," Merkel told reporters at a press conference in Berlin.
Merkel said that German President Christian Wulff would officially nominate the two new ministers at 10:00 on Thursday.
The chancellor said she was looking forward to working with both politicians in their new roles.
Political and personal allies
Chancellor Merkel told reporters she had met Thomas de Maiziere during the peaceful revolution in the German Democratic Republic in 1989/1990.
"Ever since this period, we have been connected personally, in friendship and politically. Our paths have crossed time and time again," Merkel said, alluding to de Maiziere's former posts at regional and federal levels.
Thomas de Maiziere became interior minister in 2009; the veteran Christian Democrat is also the cousin of Lothar de Maiziere, the first freely elected leader of former East Germany.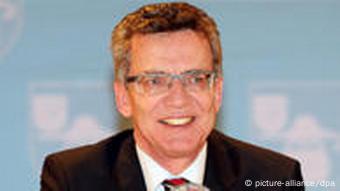 De Maiziere has been a close ally of Merkel's for two decades
"I don't just value his brilliant intellect and his exemplary feeling for duty and responsibility, what really sets him apart is his politics based on fixed values, the way he thinks from the people's point of view, and always sees people's worries, their issues," Merkel said.
Merkel said she was convinced that de Maiziere would quickly win the trust of the soldiers in his charge, and would be able to continue the reforms of the German military (the Bundeswehr) that his predecessor Guttenberg began.
Trusted advisor
Merkel told the assembled reporters that she had known Hans-Peter Friedrich, who is set to replace de Maiziere as interior minister, since the late 1990s.
"During my time in office as party chairwoman, Hans-Peter Friedrich was the legal adviser for the CDU and CSU. He was already an extremely important adviser in interior affairs and legal matters," Merkel said.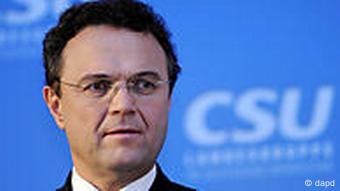 53-year-old Friedrich is a little-known face abroad
The chancellor said she and Friedrich now work together in all political areas "extremely closely and with a great deal of trust," adding that she was certain he could continue Thomas de Maiziere's work "resolutely, with great energy and determination."
Merkel also stressed that the interior minister's role went beyond policing and terror-related matters and also included wider issues like dialogue with religious institutions, integration efforts with Islam, and the demographic development of Germany as a whole.
"I'm looking forward to cooperating, both with Thomas de Maiziere in his new function, and with Hans-Peter Friedrich in his role as interior minister," Merkel concluded.
Author: Mark Hallam (AFP, AP, dpa)
Editor: Susan Houlton