German Chancellor Angela Merkel on Sunday met with the chairman of her Bavarian sister party, Horst Seehofer, and Social Democratic (SPD) leader Martin Schulz at the start of preliminary coalition talks in Berlin.
As the negotiations got underway, Merkel acknowledged there was a lot of work ahead, but said she was "optimistic" the parties could reach an agreement.
"I think that it can be done. We will work very swiftly and very intensively," she told journalists.
Schulz said he hoped for "constructive and open" talks, adding that the German people deserved to see speedy progress.
"We're not going to draw any lines in the sand, but we want to push through as many red policies in Germany as possible," Schulz said, referring to the representative color of his party.
Read more: Germany ends 2017 without a government for Angela Merkel
The talks come more than three months after Germany's federal elections in September last year. The vote saw all three parties lose considerable ground compared to 2013, with the far-right Alternative for Germany picking up most of the migrating voters.
A first attempt by Merkel's Christian Democratic Union (CDU) to form a ruling coalition government with the Free Democrats (FDP) and Green Party failed back in November, after FDP chief Christian Lindner walked away from the negotiating table.
Another coalition with the SPD therefore remains the only feasible option open to the chancellor, aside from the never-before-used option of a minority government. The Social Democrats know this all too well and might hope to drive a hard bargain despite their own weakened negotiating position.
Sunday's talks on the terms of a new "grand coalition" involve 39 negotiators (13 from each party), and will conclude with each party issuing a declaration outlining their key demands.
SPD demands
Schulz's decision to ultimately agree to launch preliminary talks with the conservative Union parties marks a major U-turn for the SPD leader. After picking up a historically low 20.5-percent share of the vote in September, Schulz insisted his party would not enter into another four-year alliance with Merkel.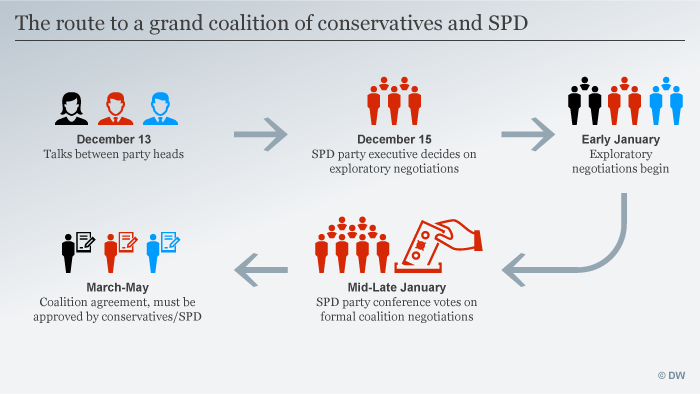 Now, however, the prospect of another four-year Merkel alliance has raised major concerns among the SPD's rank and file that the party could suffer even greater voter loss.
Ahead of the talks, Schulz has focused heavily on three policies that are problematic for the CDU and especially their Bavarian Christian Social Union (CSU) allies: compulsory state health insurance for all, realizing a more "United States of Europe" and allowing the family members of refugees to join them in Germany.
The SPD is then set to vote at their party conference in Bonn on January 21 over whether preliminary talks with Merkel's conservatives should progress into formal negotiations.
Read more: Germany needs 'new left-wing people's party,' says leftist veteran Oskar Lafontaine
However, even then, Schulz has promised the SPD's 440,000 members that they will be allowed to vote on whether or not the party should enter into another grand coalition.
Even if the path is then completely clear for a grand coalition, a new government is not expected to be formed before Easter.
dm/tj (dpa, AFP)