Congratulating her fellow conservative on his victory in the presidential runoff, Merkel said she was convinced that under him "the German-French friendship will continue to be the basis to secure lasting peace, democracy and prosperity in Europe."

Merkel said she was looking forward to meeting Sarkozy in the near future "for a first exhange of views."

The partnership between France and Germany is often described as the "motor" of the EU and Berlin is expected to be one of the first foreign visits Sarkozy makes.
Hopes for reviving EU constitution
Germany holds the rotating six-month presidency of the EU and Merkel is keen to put the European bloc on track towards a revised constitutional treaty before the German presidency finishes at the end of June.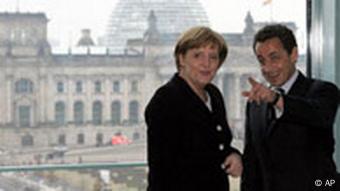 Will the two see to it that the EU constitution is ratified?

French voters rejected the draft constitution in a referendum in 2005.German Foreign Minister Frank-Walter Steinmeier said shortly after Sarkozy's victory on Sunday that he hoped Berlin and Paris would work closely together on "important European projects" under the incoming French president.
"I hope for a close German-French partnership," Steinmeier, a Social Democrat, said after right-wing Sarkozy won Sunday's presidential election to succeed Jacques Chirac.

"Of course I hope the cooperation will lead to progress on important European projects," he added in a reference to the European Union's moribund draft constitution.

In a speech directly following the announcement that he won the country's highest electoral office by a comfortable margin, Sarkozy addressed France's international agenda.

'Our destiny is linked'
"I want to launch a call to our European partners, with whom our destiny is deeply linked, to tell them that I have been European all my life, that I believe deeply, that I believe sincerely, in European construction, and that tonight France is back in Europe. I beseech our European partners to hear the voices of people who want to be protected."
Another phone call came from European Commission President Jose Manuel Barroso, who congratulated Sarkozy and said he was hopeful the new leader of France could help end the EU's institutional woes.
"I know Nicolas Sarkozy very well, and I am aware of his desire for France to take its rightful place on the European stage," Barroso said in a statement.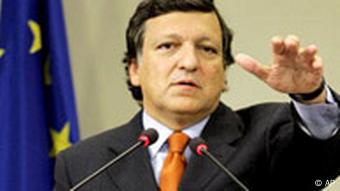 Barroso hopes to move the EU a step forward
"I have complete confidence in Nicolas Sarkozy ... to play a driving role in resolving the institutional question and consolidating European politics," he said.
Meanwhile, US President George W. Bush also sent his wishes to the man of the hour soon after his win was sealed.
"The United States and France are historic allies and partners. President Bush looks forward to working with president-elect Sarkozy as we continue our strong alliance," Gordon Johndroe, spokesman for the White House National Security Council, told AFP.
Warning on warming
Following his victory, Sarkozy pledged that the United States can count on a friendship with France, which "will always be at their side when they need help."
Since a much-publicized US trip in September 2006, Sarkozy has fought against charges that he pandered to Bush and the perception that he is too pro-American, a quality seen as unpopular with French voters.
'Friendship is accepting difference'
Addressing the crowd after his victory on Sunday evening, he tried to get some distance form that image.
"I want to tell (the United States) that France will always be by their side when they will need her. But I want to tell them as well that friendship is accepting that one's friends can act differently, and that a great nation like the United States has the duty to not obstruct the fight against global warming but on the contrary to head this struggle. Because what is at stake is the future of all humanity," Sarkozy said in his victory speech.
"France will make this struggle its first struggle," he added.
But Sarkozy has also made emphatic calls for friendship between the two nations.