Iranian Foreign Minister Mohammad Javad Zarif will have racked up plenty of air miles by the time he lands in Brussels on Tuesday evening. From Tehran, he first flew to Beijing and Moscow, before heading to the Belgian capital to meet with the other six negotiating parties about the continuation of the 2015 deal aimed at curbing Iran's nuclear program.
Negotiating party number eight — the United States — announced its withdrawal from the accord last week. Russian Foreign Minister Sergey Lavrov and the three foreign ministers of European Union negotiating parties France, Germany and the UK, have already made it clear that they want to save the deal, which they say is working. Here are the most important problems that will be up for discussion in Brussels:
Deadlines
Iran is demanding guarantees from the signatories that the nuclear deal will formally remain in place, even without the US. Iran wants answers within 60 days; the EU is asking for 90 days. "We will have to talk about whether we can really make progress with such deadlines at the moment," said Germany's Europe minister, Michael Roth. The US has threatened to impose sanctions on European companies that do business with Iran within 90 to 180 days.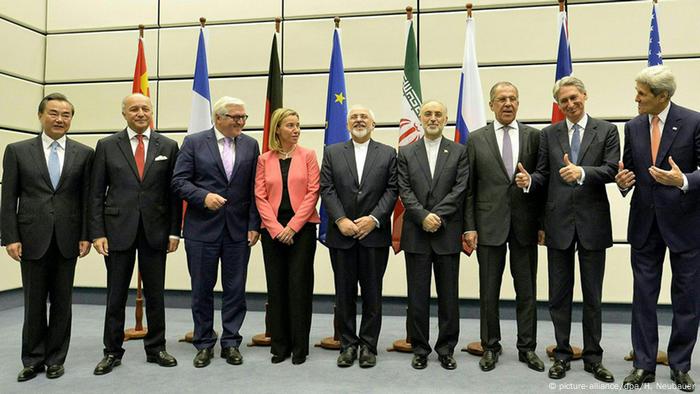 Times have changed since the 2015 Iran nuclear deal signatories were all in agreement
Sanctions
Iran is demanding some form of compensation from the other signatories, as soon as US sanctions take effect. Since US President Donald Trump has vowed the "strongest" form of economic sanctions, it's not yet clear what kind of sums the parties are likely to be discussing. German Foreign Minister Heiko Maas has said that there need to be economic incentives for Iran to remain in the deal.
Protection from secondary sanctions
The US also wants to punish companies and countries that continue to cooperate with Iran. French Finance Minister Bruno Le Maire has said that his country will create a mechanism to protect its own companies. Like Le Maire, the EU also appears to be working on such protective measures. But German Foreign Minister Maas has been more reticent so far, saying only that it will be difficult to provide full protection for Berlin's economic interests in Iran. Luxembourg's foreign minister, Jean Asselborn, has suggested a new European trade license with Iran. He also says there must be a way to continue to import oil from Iran. "I don't see anything illegal in that," he said during an interview with German radio broadcaster Deutschlandfunk. "It's not simply up to the Americans to decide that we can't do that anymore."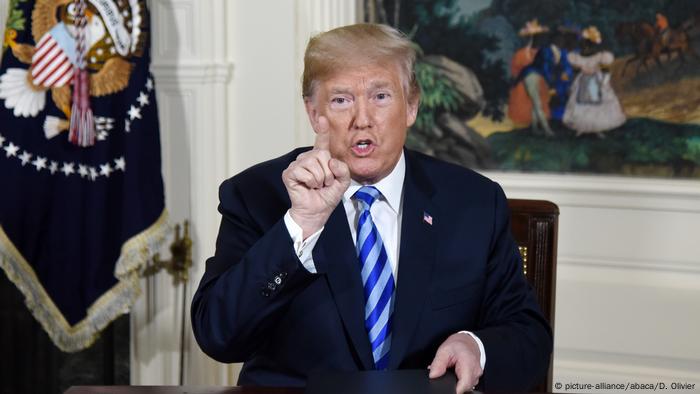 Trump announced on May 8 he was pulling the US out of the deal and reimposing sanctions on Iran
Negotiations
The EU is also interested in keeping the US in the Iran nuclear agreement. That is why French President Emmanuel Macron has suggested broadening the deal to cover Tehran's military action, including its involvement in the war in Syria and its missile program. In theory, fellow EU states would be open to this kind of renegotiation, but it is less clear whether Iran would support talks to expand the current agreement in that way.
US-Russia issues
Washington's decision to unilaterally exit the nuclear agreement is in the view of Germany's Roth "a major burden for the trans-Atlantic relationship." French Foreign Minister Jean-Yves Le Drian stressed before Tuesday's meeting that the US was "not the economic police for the rest of the world." The conundrum now is whether the EU should reach out to Russia, or whether Moscow can leverage the Iran deal to gain more concessions from Brussels. The core question surrounding the entire agreement, however, is whether it can survive in the long run without the US as a guaranteeing power. US diplomats have said that Washington would continue to support inspections by the International Atomic Energy Agency (IAEA). In another sudden turn of events, the agency's top inspector, Tero Varjoranta, resigned over the weekend.