The Sahaj International School in the southern state of Kerala is run by six transgender activists. Currently, the school has 10 students, including one disabled person and a migrant. But the main objective of the facility is to eventually provide quality education to transgender adults who dropped out from school at an early age. The school administration also wants to give vocational training to its transgender students.
"Our aim is to change the destiny of these students. We want our society to embrace and accept third-gender people," Vijayraja Mallika, a transgender activist and school administrator, told DW.
Mallika and two other activists, Maya Menon and C K Faisal, are hopeful that their initiative will help end discrimination against the transgender community in India.
For a long time, members of India's nearly 3-million-strong transgender community, who are called "hijras" in the Hindi language, have been an oppressed sexual minority. Being legally invisible, they have battled hard to gain acceptance and recognition.
In 2014, India's Supreme Court for the first time recognized a third gender, paving the way for millions of people to join the mainstream. The ruling aimed at giving transgender Indians a legal status, better protection and jobs.
Despite the ruling, social and legal discrimination against transgender people is widespread in the South Asian country.
Rampant social discrimination
"Transgenders drop out of mainstream schools at a very early age because of the prejudice they face from the people around them. While the intention of opening this school is noble, the ultimate aim should be to be integrate transgenders into society. That won't be easy," Anjali Gopalan, a LGBT activist, told DW.
Rights activist Pramada Menon also hailed the transgender school initiative, but said sexuality was still a taboo subject in Indian society.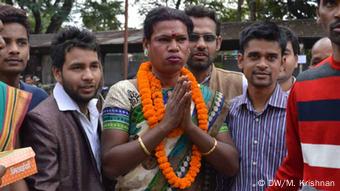 In July 2015, India elected its first transgender mayor
"While this school will provide education to transgenders so that they can get better jobs, the real issue is to bring them into the mainstream, and that is going to take a while," Menon told DW.
Milestones and setbacks
In August 2014, Delhi University opened its gates to transgender students in a historic move. But the university did not receive many applications from third-gender people.
In May 2015, Manabi Bandopadhyay became India's first transgender college principal. But Bandopadhyay's stint at the Krishnanagar Women's College in the eastern city of Kolkata was short-lived. Last month, she tendered her resignation, expressing frustration at the "non-cooperation" from a section of teachers and students.
"All my colleagues turned against me. Most of the students, too, were opposed to me. I always tried to create an atmosphere conducive to studies in the college, but they didn't like it," said Bandopadhyay.
Despite the discrimination, transgender people in India have achieved some milestones. For example, in July 2015, India elected its first transgender mayor. But a few individual achievements do not reflect the overall plight of Indian transgender people. Activists say the government needs to take more steps to ensure a better life for the country's transgender community.