Madhu Bai Kinnar has scripted history of sorts. A transgender woman from the lowest rung in India's caste (Dalit) ladder was elected mayor on January 4, making her the first openly transgender mayor in the country's history. 37-year-old Madhu Bai, whose real name is Naresh Chauhan, defeated her opponent from the ruling Bharatiya Janata Party by more than 4,500 votes in Raigarh, a district in the central state of Chhattisgarh, wracked by Maoist insurgency.
In April last year, India's top court for the first time recognized a third gender, paving the way for millions of people to join the mainstream. The ruling was aimed at giving transgender Indians a legal status, better protection and jobs. For long, members of India's nearly three-million-strong transgender community, which is called "hijras" in the Hindi language, have been an oppressed sexual minority. Being legally invisible, they have battled hard to gain acceptance and recognition.
But despite the court's rcognition, many sections of society look down upon these people.
Like thousands of her ilk, Madhu Bai, too, had a tough life begging in trains and dancing in weddings to earn a livelihood and was shunned by her family over a decade ago because of her sexual orientation.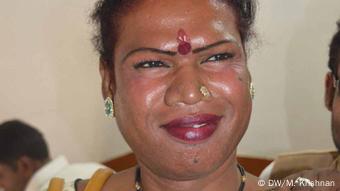 Hijras are 'discriminated, socially marginalized, and are not even treated as humans,' says Madhu Bai
Politics was not her first choice. But Madhu Bai decided to throw her hat in the electoral ring and stood as an independent candidate in the mayoral elections. She was backed solidly by members of the transgender community and well-wishers in a fiercely contested poll where she spent less than 1200 USD (around 1000 euros) for campaigning.
In an exclusive interview with DW, Madhu Bai talks about the meaning of this victory for the third gender and what she plans to do as mayor in her newly-started political innings in the midst of victory celebrations in Raigarh.
DW: What does this election victory mean to you?
Madhu Bai: This is a truly humbling experience. I never expected this result. Coming from the hijra community I never thought I could win. But people have reposed faith in me and I have to thank them deeply. Even after my election I have been traveling around Raigarh to thank them and to know their problems.
Why did you enter politics?
Actually there was no plan to enter politics. I worked in street plays and performed in folk dances for a living. It was difficult. When the elections were announced, I was moving around government offices where they were distributing nomination forms. Some elders from my community coaxed me to fill up the form. I was unsure but I went ahead. So actually it was by sheer coincidence that I entered politics.
But now that you have been elected, what does it mean to you personally that you are the first transgender mayor in India?
Hijras have a tough life. They are discriminated, socially marginalized, and are not even treated as humans. Just look at the plight of the thousands of hijras in the country. We have had to fight hard. I am happy that the Supreme Court has finally recognized us… but it has taken a long time. I will help my community and see they are treated with respect like other human beings. That is important. We are like everyone else.
Do you believe there is a bigger message that a person like you, from the third sex and Dalit community, has been elected?
I don't know. It is too early to see all this. In my election meetings, people gathered and listened to me and therefore you must ask them. I am now here to serve the people. All I will say is that the campaign to improve the well-being of hijras will carry on.
What do you hope to achieve in office and what will be your plan of action?
My first job will be to serve the community as a whole. People elected me and I have to fulfill their promises. I will ensure that everyone gets ration cards so that they can buy provisions from fair price shops. I will see that roads are better and electricity supply is improved. Some constituents told me that drainage also is a problem. The list therefore is long.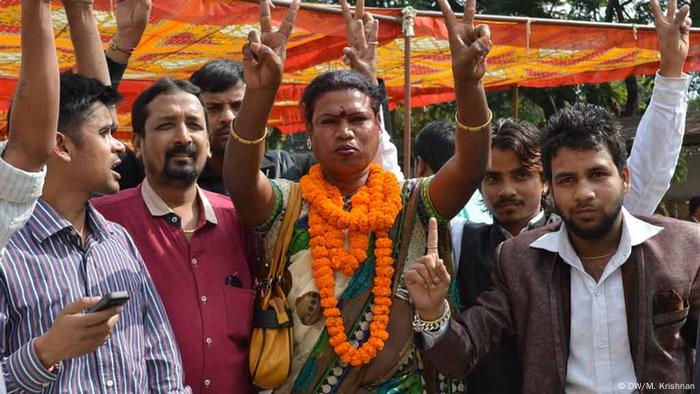 Madhu Bai: 'My first job will be to serve the community as a whole'
But do you have any specific goals for the transgender community?
I do not like to see hijras begging. It is very unfortunate. Let me see how I can rehabilitate them after I assume office. Maybe jobs in the local municipal corporation are a proposal that I will consider.
How has your family reacted to your victory?
All of them are celebrating. They are thinking Diwali (festival of lights) has come in early.