Celebrations broke out at the Zeenat Club, an exclusive club for transgenders and the "hijra" community - see picture above - in the congested locality of northeast Delhi when word trickled in that the Supreme Court had made the third gender official.
Space and dignity for transgender people
Hours of nail-biting tension on what the possible outcome of the verdict would be gave way to unbridled merriment, song and dance amongst people of the community and their supporters as they were simultaneously carefully monitoring the news.
"This is unbelievable ... too good to be true! Now we have been given a means to defend ourselves," Sanjana, a transgender, who could not stop dancing, told DW.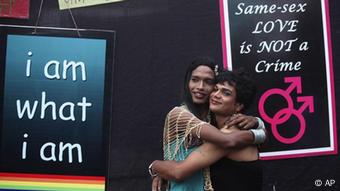 No good news for gays, lesbians and bisexuals yet
At another corner of the hall, with the music almost in full blast, Priti, who was gyrating to a popular movie number, could not hold back.
"I only dreamt of this situation. We are no longer invisible and are now genuine stakeholders in this country and will not be exploited or harassed for our gender identity," an emotionally choked Priti told DW.
For long, members of India's nearly three-million-strong transgender community, which is called "hijras" in the Hindi language, have been an oppressed sexual minority. Being legally invisible, they have battled hard to gain acceptance and recognition. Finding mainstream jobs, education, medical privileges and entitlement to government welfare schemes were utopian ideals - until now.
"This is a historic judgment, and for us it is like August 15 … Independence Day and this will finally give us a sense of belonging and identity. We can enjoy all benefits like all other Indian citizens," said Laxmi Narain Tripathi, a transgender rights activist and a co-petitioner in the case.
Activists like Tripathi said a lot of work needed to be done within the community to spread awareness about their right to education and work.
A change in mindsets is now important
The verdict came in response to a public interest litigation filed by the National Legal Services Authority which drew the court's attention to the discrimination faced by the community. The court in fact heard testimonies of transgender people who had been routinely exploited because of their gender identity.
Because they have been denied access to public services and employment avenues, a huge swathe of the transgender population across the country have been forced to beg or become sex workers. This has only reinforced the stigma attached to them.
Not for GLBTs
However, the court order clarified that its verdict pertained only to transgender people and not to gays, lesbians and bisexuals.
"With this judgment, the community's self esteem is high and we are walking with our heads held high. This is a time to rejoice and wait for the fruits of this revolutionary verdict to roll out," Anjan Joshi, a transgender activist, told DW.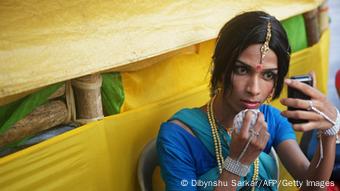 Hijras have been a long-oppressed minority
Among the crucial recommendations is their inclusion among "Other Backward Class" - the official term used by the Indian government - communities to avail of the stipulated 27 percent reservations in government education institutions and offices.
Significantly, the court also ruled that if a person undergoes a sex operation and changes his or her sex, the person will be entitled to all benefits and will not be discriminated.
With the historic court ruling, India now joins the list of South Asian countries such as Pakistan and Nepal which already recognize the third gender.