Hungarian Foreign Minister Peter Szijjarto on Wednesday described the newly agreed UN global migration compact a "threat to the world" which went against his country's interests.
The draft for the Global Compact for Safe, Orderly and Regular Migration took 18 months to draw up and was approved last Friday by 191 UN member nations except the United States, which pulled out last year saying it was "inconsistent with US immigration and refugee policies."
The compact aims to create a global framework for managing migration: a "non-legally binding, cooperative framework" to encourage "international cooperation among all relevant actors on migration, acknowledging that no state can address migration alone, and upholds the sovereignty of states and their obligations under international law."
The Hungarian border fence at Tompa
Read more: Western Balkans are vital to curb migration and fight terrorism in Europe
"This document is entirely against Hungary's security interests," Foreign Minister Peter Szijjarto said after a cabinet meeting in Budapest.
"This pact poses a threat to the world from the aspect that it could inspire millions [of migrants]," he added.
Szijjarto described the compact as a measure which was "extreme, biased and facilitates migration."
"Its main premise is that migration is a good and inevitable phenomenon," the minister said. "We consider migration a bad process, which has extremely serious security implications."
Hungary will no longer attend the signing of the final UN document, which is due to take place at a ceremony in Morocco in December.
Hungarian anti-migrant stance
Prime Minister Viktor Orban has taken a tough position on migration, which has caused tension with the European Union but resonated with Hungarian voters, as he argues that irregular immigration threatens European stability.
Read more: How costly would inner-European border controls be?
Orban disagrees with the quota-based distribution of refugees within the EU. In 2015 he ordered fences to be built along Hungary's borders with Serbia and Croatia to keep out migrants traveling along the Balkan route into northern Europe.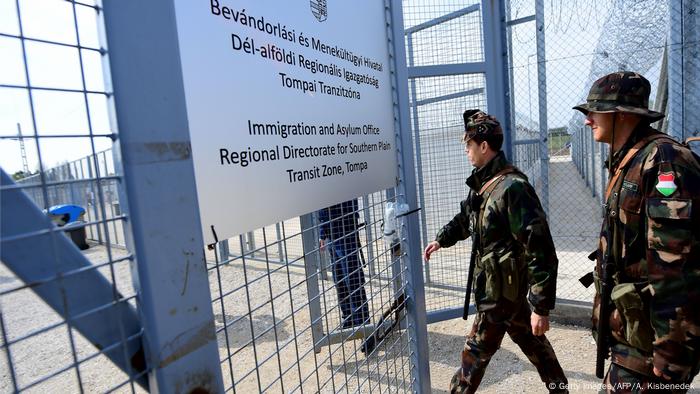 Hungarian soldiers at the Tompa border station
Read more: Could Hungary's transit zones for refugees be a model for Germany?
Poland and the Czech Republic have taken similar stances to Hungary on the issue.
law/jm (dpa, Reuters)
Each evening at 1830 UTC, DW's editors send out a selection of the day's hard news and quality feature journalism. You can sign up to receive it directly here.