Once again, a passing comment by German Chancellor Angela Merkel has started a debate about Germany's energy dependence on Russia. "There will be a new look at energy policy as a whole," Merkel said on Thursday, March 27, after a meeting with the Canadian Prime Minister Stephen Harper in Berlin.
Her comments came as a surprise, since the European Union is currently more dependant on Russia for its energy supplies than on any other partner. So, do the chancellor's comments herald a change for European energy policy; a move away from Russian oil and gas supplies?
Dependent on Russia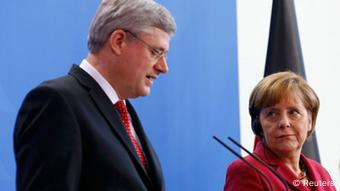 In a recent meeting with Stephen Harper, Angela Merkel said it was time the EU reformed its energy policy
A glance at the facts, however, shows that it will be hard for Europe to turn its back on Russian energy - at least in the short term: 30 percent of the EU's natural gas imports are currently from Russia. When it comes to oil, 35 percent of the European Union's supplies are of Russian origin. And Germany's dependence on Moscow is even higher: the country sources 36 percent of its natural gas imports and 39 percent of its oil imports from Russian energy suppliers. Since the biggest transport route for Europe for Russian gas runs through Ukraine, a halt of exports to there would also have consequences for Western Europe. Half of Russian natural gas exports - around 160 Million cubic meters of gas - reach Europe via Ukraine.
If Russia were to halt imports to Ukraine, the EU could survive for three months on reserves within its borders. There are also other transport routes. One of these is the Nord Stream gas pipeline, through which 55 billion cubic meters of Russian gas reach Germany. Another is the Yamal-Europe pipeline, which brings about 33 billion cubic meters of gas to Germany, the Baltic states and Poland via Belarus. The Blue Stream pipeline transports 16 billion cubic meters of Russian gas into Turkey and to Southern Europe.
If the conflict between the West and Russia continues to escalate, an oil and gas embargo could be one of the sanctions that is considered against Russia. Especially when it comes to natural gas, however, it will be hard to find alternatives for Russian imports. The Bruegel Institute, a Brussels-based think tank, did rough calculations that show it would be a huge technical and economic endeavor to find an alternative source for the 130 billion cubic meters of natural gas that reach the EU from Russia. Germany alone uses 90 billion cubic meters of the gas.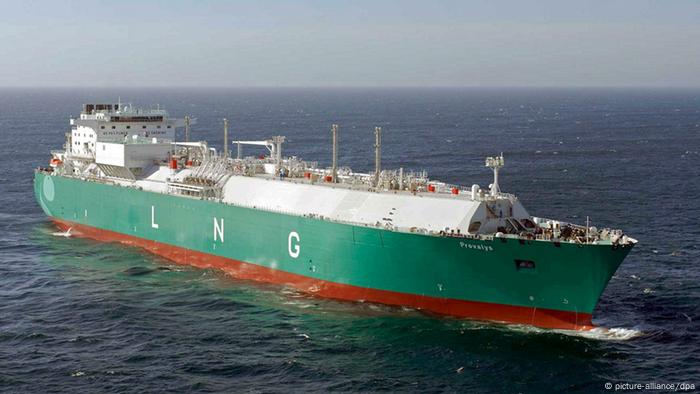 Algeria could become one of the EU's suppliers of liquefied natural gas
Europe has the possibility to diversify its suppliers for liquefied natural gas (LNG) on the worldwide gas market. Imports of liquefied natural gas from Algeria to Europe could increase. The Netherlands and Norway could also increase their natural gas production. Germany currently gets 24 percent of its natural gas from Norway, 23 percent from the Netherlands and 11 percent from local German sources. Norway could quite quickly produce an additional 20 billion cubic meters. That would mean that LNG imports from there to Germany could be doubled, increasing them to 60 billion cubic meters, according to the numbers that the Bruegel institute provides.
But the problem is that liquefied natural gas costs almost twice as much on the global market as when sourced from Russian suppliers. And there are long-term LNG export contracts, which means that short-term changes to supplies would be difficult. The European attempt to decrease its dependence on Russian gas imports supplied via the Nabucco pipeline, which was supposed to run through the Caspian Sea, recently failed for economic reasons. Overall, it will be a Herculean task - both logistically and financially - for Europe, and especially for Germany, to free itself from its current dependence on Russian natural gas imports.
Global market could substitute Russian oil imports
Russia's oil exports to the EU are a different story, however. There is currently an abundant supply of oil on the global market, which has made prices moderate - especially in comparison to the ones during the global economic crisis in 2008/2009. There would be enough alternative oil suppliers on the market - including Canada, which extracts oil from tar sands.
Though Chancellor Merkel was referring to a long-term move towards such supply options during the visit of Canadian Prime Minister Harper, a government spokesman backpedalled on the issue this Friday. "The debate about alternatives - for example the import of gas from Canada or the US - is charming, but currently remains theoretical, because they don't export any gas."
Germany's Vice Chancellor, Economics Minister Sigmar Gabriel, made a similar statement on Thursday. Gabriel explained that he doesn't see a reasonable alternative for Russian imports of gas and oil. He warned of "creating panic": "Even in the darkest hours of the Cold War, Russia kept to its contracts," Gabriel said. But just a brief look at the recent past proves that freezes on imports to Europe have taken place, at least indirectly: In 2006 and 2009, disputes between Russia and Ukraine led to short-term supply shortages for the rest of Europe.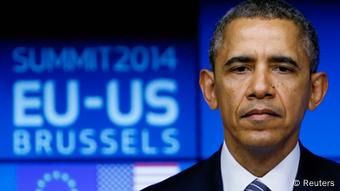 US President Obama said that the EU should decrease its energy dependence on Russia
During a G7 meeting this week in The Hague, US President Barack Obama called on the European Union to decrease its energy dependence on Russia. He advised the EU states to follow the US example in thinking about increasing the extraction of shale gas through fracking. In the United States, that has led to a surplus of energy at good prices but the technology associated with fracking has remained controversial in Europe because of the environmental damage it causes.
Russia doesn't want a 'gas war'
Russia's ambassador to the European Union, Vladimir Chizhov, has excluded the possibility of a "gas war" between Russia and the West. "Those are horror stories that have their origin in political fantasy," the diplomat told the Russian news agency Interfax on Wednesday. Chizhov emphasized that Russia is and will remain a reliable partner and energy supplier.
It's clearly in Russia's interest to preserve the energy status quo: According to the German research and consultancy firm Energy Comment, in 2012 natural gas sales earned Russia an estimated 68 billion dollars (50 billion euros), while oil sales brought in 290 billion dollars (211 billion euros). That means that natural gas contributes around 5 percent to the Russian national budget, while the profits from the export of oil make up around half of Russian government revenue. So what would hit Moscow hard financially wouldn't be a "gas war." It would be a freeze on Russian oil exports. Still, for the time being, Russian fossil fuels will remain an important pillar in the EU's energy supply.