Excitement was high when Chancellor Angela Merkel hosted 10 African heads of state at a G20 Africa conference in Berlin last year and promised them that Germany would use its presidency of the G20 to launch a new initiative to promote economic growth, fight poverty and create jobs for Africa's growing youth.
"If there is hopelessness in Africa, young people will look for better perspectives elsewhere. If we work with you for the benefit of your countries, we are going to create more security for ourselves and we will put an end to trafficking," Merkel said. At the summit, the German government officially launched its "Compact with Africa" initiative which brings together international donors, multinational organizations and selected African countries. It also promised to do more to bring more private investors to Africa, a continent that German companies in particular had largely shied away from in the past.
German government says it's on track
Almost a year down the line, the excitement in Berlin has died down considerably, with domestic issues rather than Africa dominating the political agenda. But Berlin insists that Africa has not been forgotten and progress has been made.
"We've understood that the instruments of traditional development policy are insufficient," Germany's economy minister Peter Altmaier told participants at the "Africa meets Business" conference, organized by the Africa working group of Germany's ruling CDU party in Berlin this week. "We have realized that we cannot drill enough boreholes or build enough schools in order to achieve a sustainable economic upturn in Africa."
The G20 Africa Partnership conference was supposed to mark a new era of cooperation between Germany and Africa
The German government points out that various measures pledged last year have already been implemented. It has promised to increase development assistance by at least one billion euros (1.1 billion dollars) during its four-year term of office. This year, the budget of the development ministry has increased by over 11 percent to 9.44 billion euros. The ministry has also started so-called "reform partnerships" that aim to increase German cooperation with African countries that ensure good governance, fight corruption and improve their business environments. At present, partnerships are already in place with Ghana, Ivory Coast and Tunisia. Other countries are set to follow. The economic ministry says that it has started programs to bring African startups and German investors together, increase the network of German chambers of commerce in Africa and has introduced a new initiative to improve energy supply in Africa. Work to implement the "Compact with Africa" agreements has also started, with Togo becoming the 11th African country to join the initiative.
But even the government admits that coordination is lacking. Last year, three ministries came up with individual strategies for cooperation with Africa. The development ministry released its "Marshall Plan with Africa", the ministry of finance the "Compact with Africa" initiative and the ministry of economy the "ProAfrika" concept. The German government then agreed a strategy to support more private German investments in Africa. "We have to coordinate each other better within the government and at EU level," Guenter Nooke, Chancellor Merkel's advisor on Africa, said. The government has in principle agreed to combine these strategies in a joined action plan, it is not clear when.
Read more:'Marshall Plan with Africa' creates enormous expectations
More coordination, more action
Critics say it is not just about more coordination, but also about more action. "There is a huge difference between big companies that are all present in Africa and small and medium enterprises that do not dare to go there, because it is too risky for them to develop new markets in Africa on their own," Stefan Liebing, head of the "Afrika-Verein," an association of German companies with business interests in Africa, told the "Africa meets Business" conference.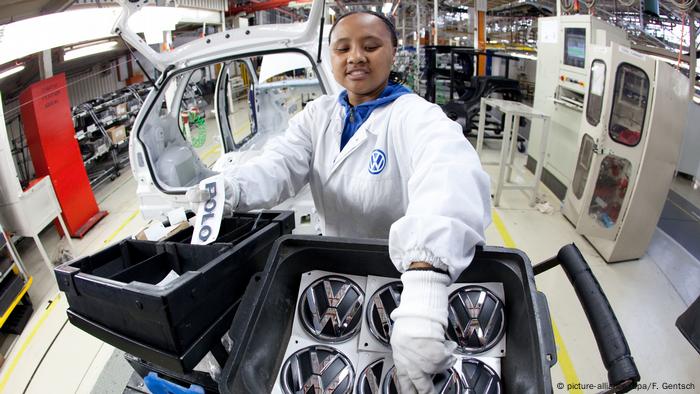 Major German companies have increased their presence in Africa, but many small companies shy away from the continent
Industry representatives insist that medium-sized companies — considered the backbone of the German economy — need government guarantees to avoid financial problems if an investment in Africa goes sour. Present schemes providing guarantees are insufficient, as they exclude investments in certain African countries or demand high equity contributions, according to the industry.
German politicians pledged to make the required changes, but the necessary laws have not been passed. "We have these ideas and a cabinet decision in place for 12 months, but nothing has happened. That does not just make Germany's medium-sized companies angry, but also our African friends. My urgent request is to start implementing these measures tomorrow," Liebing said.
Industry representatives insist that time is crucial, with more companies from emerging economies set to enter the African market. But if and when the German government fulfills their demands remains to be seen.