Alassane Ouattara knows how to entertain his fellow delegates: The president of Ivory Coast got plenty of laughs when he jokingly suggested that the German government's plans for a new partnership with Africa should be named the "Merkel Plan." In fact, Chancellor Angela Merkel has been pushing for strong relations with the continent ever since the start of Germany's G20 presidency.
Merkel emphasized that in her opening speech at the G20 Africa Summit on Monday. "Good developments in the world will not work unless all continents participate in them," she said. "Of course, that also means in particular that the African continent has to progress with its path to development in a more dynamic way."
The German government has clear goals in supporting Africa - which Merkel made clear as the summit kicked off in Berlin. "When there is too much hopelessness on the continent, young people say they have to find a new life elsewhere," she said. "By working together to build up their countries, we can also create more security for ourselves," she told African leaders.
Many countries have shown impressive growth rates, Merkel added. But in several of them, the economic development is still below the level it needs to be to match the demands of growing populations, she told delegates. For young Africans entering the labor market, that's a huge problem, the chancellor said.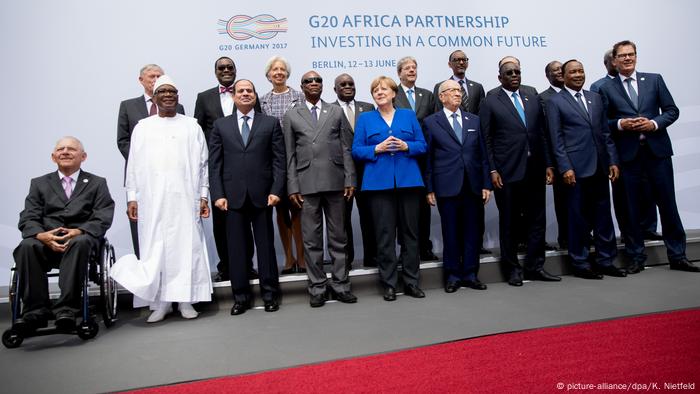 Leaders and lawmakers from Africa and Europe are holding two days of talks in Berlin
More than just economic cooperation
But cooperation cannot be limited to the economy, Merkel said. "The partnership with Africa is on the one hand about economic development; on the other hand it is also about promoting freedom, stability and safety: it's about creating the basic conditions for economic activity to actually happen in the first place."
Economic relations are the main focus at the two day summit in the German capital. Key to Germany's G20 commitments are so-called "Compacts with Africa". Five African countries - Ivory Coast, Morocco, Rwanda, Senegal and Tunisia - want to take up these partnerships. That will mean committing to reforms to attract more private sector investment - for which they will receive support from various G20 countries and international organizations. Germany will also team up with Ivory Coast, Tunisia and Ghana, which will each receive an additional 200 million euros ($224 million) as part of a reforms initiative.
"We need strong participation from the private sector," said Alpha Conde, Guinean president and head of the African Union. He told delegates that Africa urgently needed to industrialize, saying the continent had plenty to offer foreign investors. "Our lack of infrastructure is a problem for investors, but also an opportunity for them," Conde said. According to estimates, Africa needs $130 billion US dollars (116 billion euros) annually for its infrastructure alone.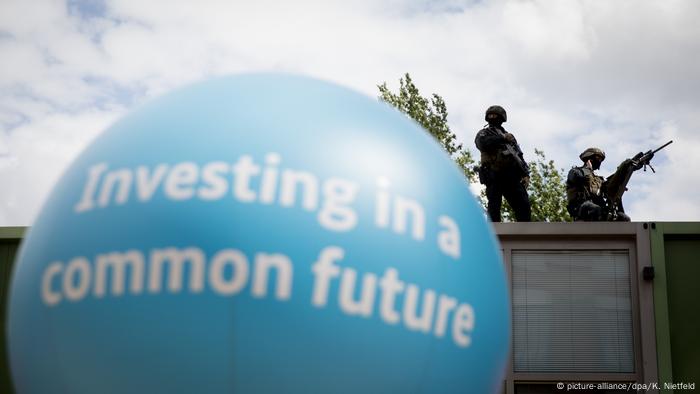 Security is high at the summit in Berlin
More engagement from Africa
Ghanaian President Nana Akufo-Addo called on fellow African leaders to show more commitment themselves. "If we Africans are to transform our stagnant, jobless economies, built on the export of raw materials and unrefined goods, to value-added economies that provide jobs, to build strong middle-class societies and lift the mass of our people out of dire poverty, then we must take our destinies into our own hands and assume responsibility for this," said Akufo-Addo. Too many young Africans are risking their lives in the hope of a better life in Europe - but Africa needs its youth, he added. "If we provide them with the right environment in Africa, which enables them to enhance their skills, receive appropriate vocational training and have access to digital technology, they will make our continent great."
Not everyone supports the summit's focus on private investment. Niema Movassat of Germany's left-wing opposition party Die Linke called the two day conference "highly dangerous" for the future of the continent. "It's just geared towards rich nations and their companies securing their business interests in African markets," Movassat said. The Green party is also calling for projects that are part of the Compacts to commit to clear social and human rights standards. "The partnerships have been agreed without any criteria for social and environmental issues and without any commitment to a duty of care for human rights," Cornelia Füllkrug-Weitzel, head of the Christian development charity Bread for the World, told the Funke media group.