Germany's development minister Gerd Müller (above, right) is a man with a mission he is impatient to fulfill. He recently attended the Berlin African Economic Forum, a conference convened by the German-African Business Association (Afrika-Verein der deutschen Wirtschaft) and the Westerwelle Foundation, which is named after the late German foreign minister, Guido Westerwelle.
Müller said he was pleased that plans to turn 2017 into Germany's Year for Africa were finally firming up. "We have plenty of backing in the finance and economics ministries," he said. After the conference, he planned to meet Foreign Minister Sigmar Gabriel. "We want to brief him on Africa. He's open for ideas and is supporting us all the way," Müller said.
'Marshall Plan with Africa'
Germany's Year for Africa refers to a policy decision by the government in Berlin to use Germany's presidency of the G20 major economies to mobilize more resources for Africa. Various ministries have already outlined their plans for this project, or are working on them.
Müller and the development ministry unveiled its "Marshall Plan with Africa" in January. The finance ministry, in cooperation with other G20 countries, is drawing up a "Compact with Africa." Last December, the development and economics ministries presented a joint strategy paper on promoting more trade and investment in Africa.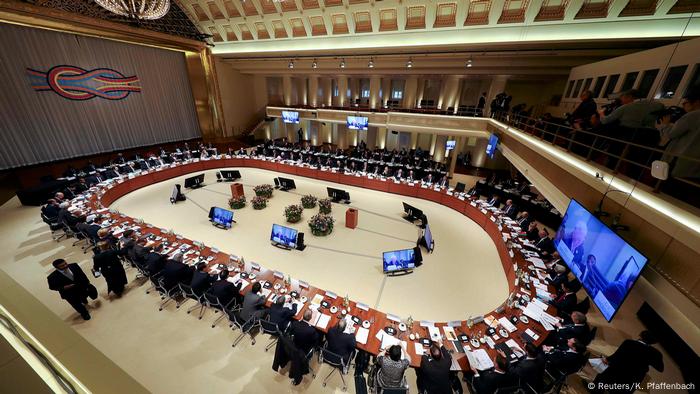 The 'Compact for Africa' was on the agenda at the 2016 G20 finance ministers' meeting in Baden-Baden
Search for common strategy
Helmut Asche, professor for African studies at the Universities of Mainz and Leipzig, told DW that he thinks the German government's new-found commitment to Africa is "a splendid idea." Nonetheless, he has certain reservations. "It is an open secret that coordination between the various ministries could be, to put it mildly, better. This has not escaped our African partners," he said.
The ministries themselves are now starting to realize this, Asche said. However, a joint, coordinated German government strategy on Africa for the G20 presidency is still lacking.
There is a myriad of unanswered questions surrounding both the "Marshall Plan" and the "Compact with Africa." How is the substantial supplementary funding needed for both these projects going to be arranged? The final communique of the recent G20 finance ministers meeting devotes just 15 lines to the "Compact with Africa." It says that the initiative should promote investment in selected African countries.
Elections in Germany
Time is running out for the German government. It will have to have finalized its coordinated strategy by the summer. The G20 conference on Africa is scheduled for June. The G20 summit of heads of state and government follows in Hamburg in July. Then campaigning starts in Germany for the September general election. After the election, there will be coalition talks on forming a new government. So will the German government be able to bring together its ideas on Africa in time? "I have my doubts, but the government may well surprise us," said Asche.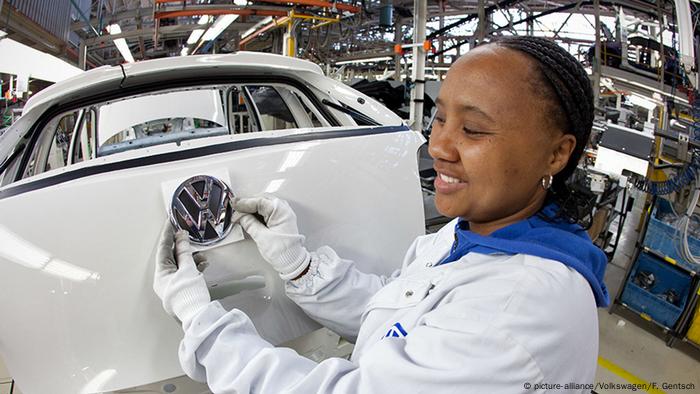 Private industry is to be given a key role in the German government's plans for helping Africa
German business leaders are watching the evolution of the government's Africa policy very closely. This is because increased private investment plays a key role in Berlin's tentative plans. According to German government thinking, more foreign investment and more joint projects involving the development and economics ministries could help improve living conditions in Africa.
At the German-African Economic Forum in Nairobi in February, the development and economics ministers, Gerd Müller and Brigitte Zypries respectively, appealed urgently to German businesses to display a greater commitment to Africa.
"The recent announcement by Chancellor Angela Merkel that Africa should be put top of the agenda is already having an impact. But we now need to see something of substance behind that headline," said Christoph Kannengießer, who heads the German-African Business Association.
Long term goals
German businesses are hoping that political backing from Berlin will lead to improved market conditions in Africa. German firms say competition is fierce. Lucrative deals for large-scale projects often go to the Chinese. German firms also hope that the Berlin government's new commitment to Africa won't be dropped after the general election.
"We face a challenge that is going to preoccupy us intensely for the next decade or two. I trust that the usual short term approach of the political class and their tendency to think in legislative periods won't gain the upper hand," Kannengießer said.