In Germany, food pantries have been struggling to keep up with rising demand as the number of people seeking their services has soared.
Though food donations in mid-2016 rose by 11 percent, the number of recipients rose by 18 percent, Jochen Brühl, the chairman of the Berlin-based federation of German food banks, told DW.
"The people who come to our distribution points mirror the problems in society, and show who is at the losing end," Brühl said, adding that patrons were mainly people on welfare and people who earn low wages, as well as retirees, single parents and their children - and, since late 2015, about 280,000 applicants for asylum.
The number of pantries, known in Germany as "Tafeln" (tables), rose sharply after the "Hartz IV" reforms to long-term unemployment benefits were implemented in 2005.
Not making ends meet
The outlets regularly support about 1.5 million people in Germany, according to the federation.
The number of senior citizens waiting in line for bags full of staples, fruit and vegetables - donated by supermarkets and wholesalers - has doubled since 2007, Brühl said. He said that child poverty poses a problem, too. Children and senior citizens make up about half of the people whom food pantries serve. "The development is alarming," he said.
Over the years, food banks popped up all over Germany since 1993, when a group of Berlin volunteers started scouring supermarkets and restaurants for bruised fruit and dairy products that had reached their expiration dates, distributing the food to homeless people.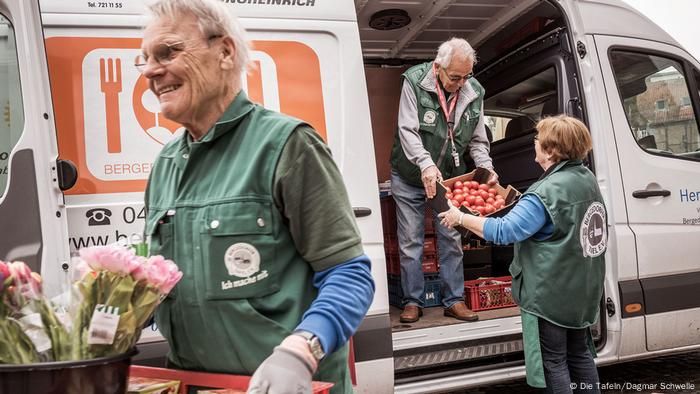 Food banks exist all over the world, and Germany has a comprehensive network, too
The movement now has more than 900 food pantries, more than 2,000 distribution points, about 60,000 volunteers, and more than 2,000 dedicated vehicles, some of them refrigerated to transport perishable foods. Unlike in some other countries, German food pantries not only collect food, but also distribute it.
Taking pressure off the government?
Overstretched or not, the movement has its critics.
Why, asked Stefan Selke, a sociologist at Furtwangen University, would a country as rich as Germany feel comfortable with the services that food pantries offer? The "practice stabilizes the system," he told DW. That's why. The pantries are a mirror of social policy in Germany, he said - but they certainly "can't substitute the welfare state."
The sociologist sees a real danger of an "unintended stabilization of poverty" and urges Germany to "fight poverty in a sustainable way instead of 'investing' in poverty relief by food pantries."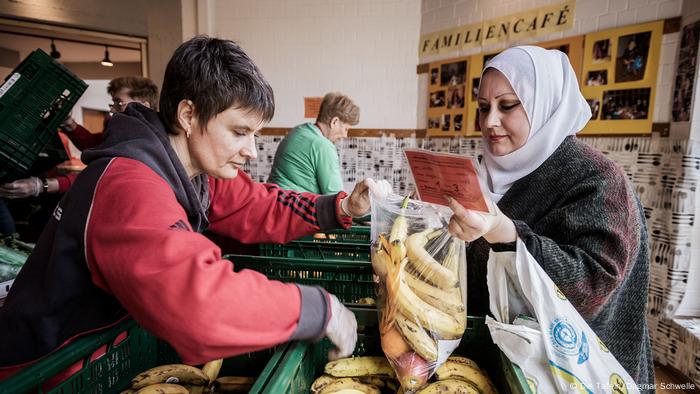 Critics don't agree with food bank charity, saying it takes the pressure off the government to solve the problems
Poverty is in fact on the rise in Germany, according to the government's fifth report on poverty and wealth. About 5.6 percent of the population are officially classified as poor, and about 20 percent of people are threatened by poverty.
The federation has long called for a federal poverty commissioner, Brühl said. The food pantries are volunteer-based organizations that increasingly "work at the limit," he added.
Trucks, storage, rent
Pantries in populous North Rhine-Westphalia, in Bavaria and Berlin in particular served more customers last year than ever before, and other federal states also noted a rise in demand.
There is no standard procedure. Each local pantry has its own opening hours and way of collecting and distributing food. Patrons - who have to show proof of their need - often pay a small token fee of 1 euro ($1.06) for a bag of groceries. In the southwestern state of Baden-Württemberg, many pantries are set up like supermarkets: Customers make their own choices and pay a small fee per item.
Volunteers in other countries have since modeled their food banks on the German concept, according to the federation, which offered the Feedback initiative in Cape Town, South Africa, as well as food pantries in Sydney, Vienna and Switzerland as examples.