Germany's interior ministry announced on Thursday that it was sending 20 Federal Police officers to border between Serbia and Hungary to help control a surge in the number of mainly Albanian Kosovars seeking to enter the European Union. The preferred route sees the Kosovars travel through Serbia before slipping across the border into neighboring EU member state Hungary.
"To ensure the long-term stability of Kosovo and the whole region and to guarantee ... protection and acceptance among the population for those who are politically persecuted .. we have taken a range of measures," said the German interior ministry in a statement.
Among the other measures are plans for German officers to join their Austrian and Hungarian counterparts in conducting checks on trains in the line that runs from Budapest to Munich via Vienna. Germany is also planning to support Serbian border officers by providing them with equipment and training.
There are also plans to strengthen the presence of the European Union's border control agency Frontex along the Serbian-Hungarian frontier.
The moves come amid increasing concerns in the German government about the growing number of Kosovars seeking asylum in Germany. The ministry said the number of Kosovars applying for asylum jumped to 3,330 in January - an increase of 85 percent from December. It also said more than 18,000 Kosovars had entered Germany since January 1.
It also noted that more than 99 percent of the asylum applications from Kosovo nationals were rejected.
Kosovo appeals for help
Germany's efforts to help stem the tide of people leaving Kosovo also appeared to be in the interests of the government in Pristina.
Kosovo's interior minister, Skender Hyseni on Thursday asked the EU to expel thousands of his fellow countrymen who had reached its member states.
Speaking after a meeting with Austrian Interior Minister Johanna Mikl-Leitner in Vienna on Thursday, Hyseni said the EU needed to do more to dispel the "illusion" held by many Kosovars that it was easy to obtain asylum in EU countries.
"We've always been told that the vast majority of the illegal migrants have no status rights and will be sent back. I hope that happens quickly," he said.
"We all know that Kosovo doesn't offer the best living conditions," Hyseni conceded, while insisting that despite this, it was a "safe country."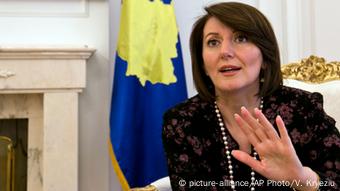 Atifete has appealed to Kosovars to stay
Tens of thousands have left Kosovo since last summer, leading the government to kick-off a campaign urging people to stay home to work to build a better country.
President Atifete Jahjaga traveled last Friday to the town of Vushtrri, where thousands of people have begun their migration by boarding buses to Serbia.
"You should not leave; you have to stay with us here and find solutions," Jahjaga told a crowd of people.
pfd/rc (dpa, Reuters, AP, AFP)