Germany will provide a loan worth 500 million euros ($566 million) to Iraq to aid the country's struggling economy, German Chancellor Angela Merkel announced on Thursday after a meeting with Iraqi Prime Minister Haider al-Abadi in Berlin.
"Germany is ready to do what it can ... to stabilize Iraq in view of the big security challenges and economic challenges," Merkel said during a joint news conference with al-Abadi, noting the impact of weak oil prices on the Iraqi state budget.
Although the loan is not tied to any specific projects, Merkel said Iraq needed to repair its war-torn infrastructure to give Iraqi people hope "so that they don't have to leave their country." She also added that Germany wishes to help demine cities and towns in Iraq so its 3 million internal refugees may once again return home.
Tens of thousands of Iraqis have also sought refuge in Germany, which is currently under pressure at home to reduce the refugee influx after seeing some 1.1 million people apply for asylum last year.
To help stem the tide of asylum-seekers, Merkel said the two countries would work more closely to battle human traffickers who lure Iraqis to Germany under false pretenses.
The money should also help buoy Iraq's faltering economy in light of the global slump in oil prices - which are now around $30 (26 euro) per barrel, down from $110 (96 euro) in 2014. Oil provides more than 90 percent of Iraq's government revenue, said al-Abadi one day prior.
'Kurdistan is part of Iraq'
At the joint press conference in Berlin, al-Abadi also strongly discouraged autonomous Kurdistan's proposed independence referendum.
"The Kurdistan region will not develop without Iraq, and Iraq must be united in all its components," al-Abadi said. "I urge them not to go ahead with the referendum. If as they say they are not going to abide by its outcome, then why to hold a referendum?"
Last week, Kurdish leader Massoud Barzani called for the region to hold a non-binding referendum on independence from the rest of Iraq, despite also struggling with oil prices and fighting the militant "Islamic State" (IS) group.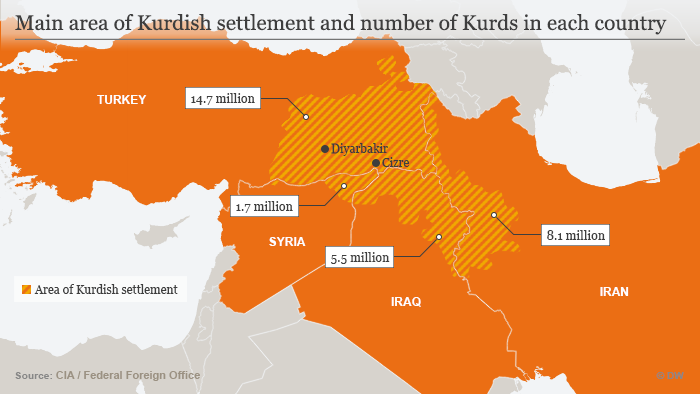 "Kurdistan is part of Iraq and I hope it remains that way," al-Abadi insisted. "Disintegration is in no-one's interest."
Merkel also said on Thursday she also did not want to see Iraq divided: "With all our support for the peshmerga and the Kurds (in the fight against IS) we have always made that clear," the chancellor said, referencing the military support Germany has given the region's peshmerga forces.
Kurdistan's forces have driven back IS militants in northern Iraq, garnering international recognition and support. But many regional powers such as Turkey, Iran, and Syria oppose Kurdish independence.
rs/jil (AP, AFP, dpa, Reuters)