Germany will extend a ban on deporting Syrians back to their war-torn homeland until December 31, 2018, state interior ministers agreed on Friday.
The issue of Syrian deportations was a major theme at a two-day meeting in Leipzig attended by the 16 state interior ministers and German Interior Minister Thomas de Maiziere.
State interior ministers from Chancellor Angela Merkel's conservatives (CDU/CSU), especially in Bavaria and Saxony, had wanted a ban on deportations of Syrians to end in mid-2018 if the security situation in Syria permitted.
Longstanding ban
Social Democrat (SPD) interior ministers rejected the idea.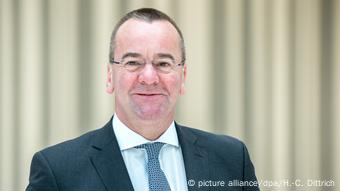 Pistorius: Syria remains too insecure
"Syria is not a country you can deport people to" as long as there are human rights abuses and conflict, said Lower Saxony Interior Minister Boris Pistorius, citing German law and European human rights conventions.
The push to end the ban was directed specifically at deporting Syrians who have committed crimes or are considered a danger to the public, the so-called "Gefährder."
Germany has not carried out any deportations to Syria since 2012.
Read more:
Germany floats bonus for rejected asylum seekers to go home
German pilots refuse to carry out deportations
New security report on Syria
The interior ministers instructed the federal government to draw up a new evaluation of the security situation in Syria. The last security assessment was carried out in 2012, a year after the Syrian civil war erupted.
If there are new findings, interior ministers would "re-discuss the issue in particular with regard to criminals and people that are a threat to the public," said Saxony Interior Minister Markus Ulbig of the CDU.
But de Maiziere said it would take "weeks or months" for the Foreign Ministry to write up the report.
"We are optimistic that the situation in Syria will improve, but realistically we aren't counting on it," he told journalists.
He said the ban would remain in place until there was a new decision by the interior ministers.
There are no exact figures on how many Syrians have committed crimes or are considered a danger to the public, but de Maiziere put the number in the "three to four digit" range.
cw/tj (AFP, dpa, epd)