State interior ministers from the conservative Christian Democratic Union (CDU) and its Bavarian sister party, the Christian Social Union (CSU), want to restart Syrian deportations in mid-2018, according to a report by the RedaktionsNetzwerk Deutschland (RND) newspaper group.
The draft proposal from the CDU-led eastern state of Saxony is expected to be discussed at next week's conference of interior ministers in Leipzig in December. Ministers of different political parties representing all of Germany's federal states will be present.
According to the RND, which has seen the document, the plan has the backing of all federal states run by Chancellor Angela Merkel's CDU.
A spokesman for German Interior Minister Thomas de Maiziere, who will also attend the Leipzig meeting, said there was no way people would be sent back to Syria "today, tomorrow, or next week" because the security situation on the ground had not changed.
Read more: The dark side of Germany's deportation policy
Reassessing security in Syria
A moratorium on sending Syrians back home, in place in Germany since 2012, expired in September this year. CDU/CSU lawmakers say they want to extend that deadline to June 30, 2018, after which time deportations could theoretically resume.
That time frame has been rejected by interior ministers from the center-left Social Democratic Party (SPD). Instead, they want the halt on deportations to continue until at least the end of 2018.
"The Union-led interior ministries' demand is cynical in view of the futile situation and ongoing death and destruction in Syria," Lower Saxony's Interior Minister Boris Pistorius of the SPD told RND. He described the initiative as a "questionable" attempt to court the right.
Read more: Syrian refugees in Germany contemplate return home
At the upcoming conference, Germany's state ministers will discuss whether the federal government should undertake a full re-evaluation of the Syria's security situation. A spokesman for De Maiziere said the minister was open to such a review.
"How we proceed will depend on the outcome of the assessment," Saxon Interior Minister Markus Ulbig told the German Press Agency, adding that the plan aimed specifically to allow "perpetrators and people who have committed serious crimes to be sent back."
A spokeswoman for the Foreign Office was skeptical: "There is still a long way to go before there is peace and a settlement to resolve the conflict in Syria," she said.
The German Embassy in Damascus, which had played a central role in evalutating Syria's security situation, has been closed since 2012. As a result, the government has relied upon information from Germany's diplomatic missions in Ankara, Turkey and Beirut, Lebanon, when assessing conditions in Syria.
Read more: The dark side of Germany's deportation policy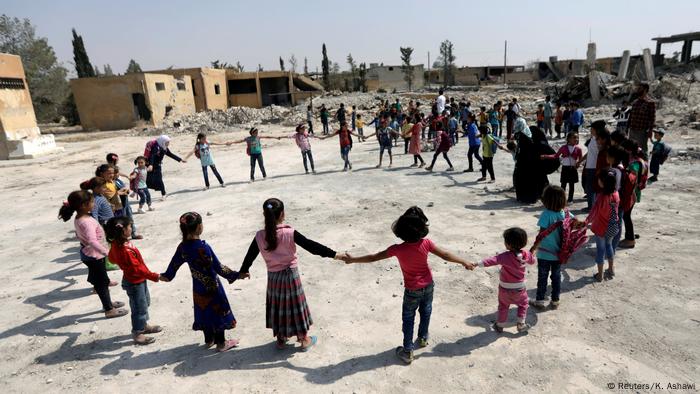 Life goes on for children in the playground of this bomb-hit school in eastern Aleppo's countryside
But is the country safe?
The new security assessment could potentially mark parts of Syria as safe — and therefore in a position to take in refugees.
Earlier this year, the International Organization for Migration reported that improving security in some regions had prompted more than 600,000 Syrians to return to their homes in 2017. Most of those were internally displaced, as well as refugees returning from exile in neighboring Turkey, Lebanon, Jordan and Iraq.
Read more: Amnesty urges EU to stop deporting Afghan asylum-seekers
There are currently around 650,000 Syrian refugees living in Germany. Chancellor Merkel has been under pressure to bring those numbers down following the arrival of more than a million migrants — mainly from Syria and Afghanistan — since 2015.
The war in Syria has killed around 400,000 people and displaced millions since 2011. Rival military campaigns supported by the United States and Russia have helped drive the militant group, "Islamic State" (IS), from its last strongholds in the country. However, UN-brokered peace talks aimed at ending the conflict have yet to reach a breakthrough. President Bashar Assad is determined to stay in power, while the opposition demands he step down.
Read more: Two years since Germany opened its borders to refugees
Controversial Afghanistan decision
In October 2016, Germany and Afghanistan reached a deal on repatriating failed asylum seekers, with the first deportation flights heading to Kabul last December. A total of 128 people, mostly young men, have been sent back since then.
The relocations were briefly suspended after a truck bomb attack in Kabul in May killed 150 people and wounded 300 others. The flights resumed in September.
The decision sparked protests, with critics arguing Germany should not deport Afghans while the Taliban continues to step-up its attacks against civilians and security officials.
Rights group Amnesty International warned European governments last month that a surge of failed Afghan asylum seekers "forcibly" returned are at risk of torture, kidnapping and death.
Any future decision in Germany to resume deporting Syrian citizens is likely to be met with similar objections.
nm/cmb (Reuters, AFP, dpa, epd)