"In their determination to increase the number of deportations, European governments are implementing a policy that is reckless and unlawful," said Anna Shea, Amnesty International's Researcher on Refugee and Migrant Rights. She said governments were being "willfully blind" to evidence that violence was at a record high in Afghanistan.
Amnesty's call comes after a rise in violence in recent years as the Taliban gains ground across the country. The capital, Kabul, has been hit by a wave of suicide attacks.
Read more: Afghan migrant returns as a stranger to a deteriorating country
It also comes amid a political backlash in some European countries against the rise in immigration from the Middle East and North Africa.
"Amnesty International is calling on all European countries to implement a moratorium on returns to Afghanistan until they can take place in safety and dignity," the group said in a report published on Thursday.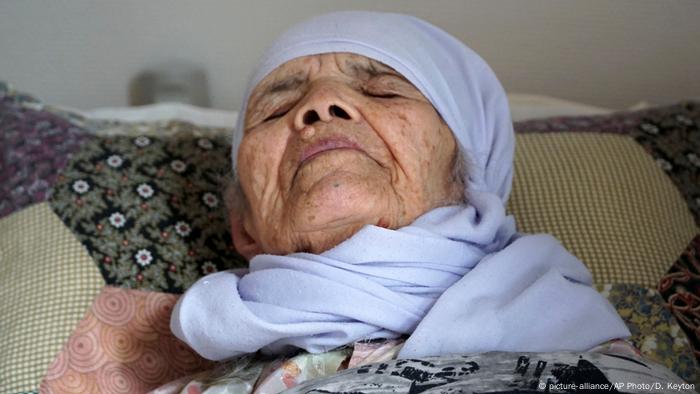 106-year-old Afghan refugee Bibihal Uzbeki in Sweden in September — she faces deportation
There has been a steep rise in the number of Afghans being returned from Europe, either due to forced deportation or "assisted voluntary return," Shea said.
A return can be considered "voluntary" if the Afghan national is ordered to leave but the return is non-coercive, or when nationals fully decide on their own to return.
Amnesty said the total had almost tripled from 3,290 to 9,460 between 2015 and 2016. The Afghan government should not cooperate with sending people back, "despite its dependence on foreign aid," Amnesty said.
Afghans have been among the main groups of asylum-seekers in Europe, with 108,455 first-time asylum-seekers registered in the EU in the 12 months to the end of June, second only to Syrians, according to EU statistics agency Eurostat. But the numbers have fallen over the past year, down 24 percent between the first and second quarters and 83 percent between the second quarter of 2017 and the same period in 2016.
Germanyhas also led the way in forced deportations and "voluntary returns" of Afghan asylum-seekers in Europe over the past two years, the report said.
Germany has sent 3,440 rejected Afghan asylum-seekers back to the country, more than any other EU state.
Read more: The dark side of Germany's deportation policy
The German government's decision to return rejected asylum-seekers to Afghanistan has sparked major debate among politicians as well as the public.
The report by the human rights watchdog said there had been a 300 percent rise in deportations of Afghans from Europe between 2015 and 2016 - from 3,290 to 9,460.
In 2016 the five European countries from which the most Afghans returned were: Germany (3,440); Greece (1,480); Sweden (1,025); Britain (785); and Norway (760).
According to the UN, at least 1,662 civilians were killed and 3,581 wounded in the first half of the year, with nearly 20 percent of civilian casualties coming in the capital Kabul itself.
jbh/sms (Reuters, dpa)