The number of Islamist extremists suspected of being potentially willing to carry out terror attacks in Germany has now grown to 690, federal BKA police chief Holger Münch says, compared with a figure of 600 issued by the Interior Ministry in February.
Read more: Young Islamists in Germany have 'very scant' knowledge of Koran
In an interview with the daily "Frankfurter Rundschau" published on Friday, Münch said that radical Islamists posed the greatest terrorist threat in Germany, while the potential danger from left- and right-wing extremists was considered minor in comparison.
"In the left-wing scene, the [German] states have currently estimated a number that can be counted on the fingers of one hand. In the right-wing scene, the number is in the low double digits," he said.
Far-right 'could develop terrorist potential'
Münch's assessment contrasts strongly with the statements of several German politicians following the recent riots during the G20 meeting in Hamburg, who insisted that there was a rapidly growing security threat from the left.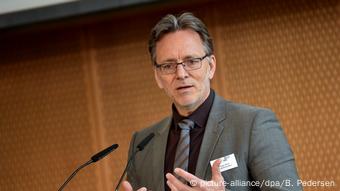 Münch: Biggest risk from Islamists
However, he warned that the far-right scene did have the potential to turn increasingly toward terrorism.
"Unlike in the current scene of left-wing criminality, we very much see the risk that terrorist structures could form in the right-wing spectrum . Over the past two years, the topic of immigration has led to a noticeable radicalization of the scene. The huge number of offenses directed at asylum seeker shelters in 2015 and 2016 underlines that," he said.
"We are being very vigilant, and want to start open investigations as fast as possible, without merely observing for too long," he added.
tj/ng (dpa, Reuters, KNA)