"I was a consultant of internal medicine in Syria. I hope that I can work as one here in Germany, too."
Dr. Munzer Shekho is from Aleppo. He fled his home city three years ago. Much of it now lies in ruins thanks to the civil war that has ravaged Syria.
For the past few months, Shekho has treated patients at a special clinic for refugees in Neumünster in northern Germany. But as of September 30, he is out of work. His temporary license will not be renewed until he undergoes a competency exam.
Medical director Dr. Ivo Markus Heer employs Shekho and three other Syrian doctors at the clinic in the Friedrich Ebert hospital. Two of them have to leave. Heer says they are highly qualified, competent and have shown their medical qualifications to the authorities. But the Syrian and German curricula do not match precisely, so the doctors need to prove they are well enough trained to work here.
Clinic closes
In the meantime, says Heer, the clinic has to close, even though nearly 1,000 refugees live in accommodation down the road. "If we do not have the doctors to run this center then we need to cease running it. The two remaining doctors will be moved to the casualty department," he said.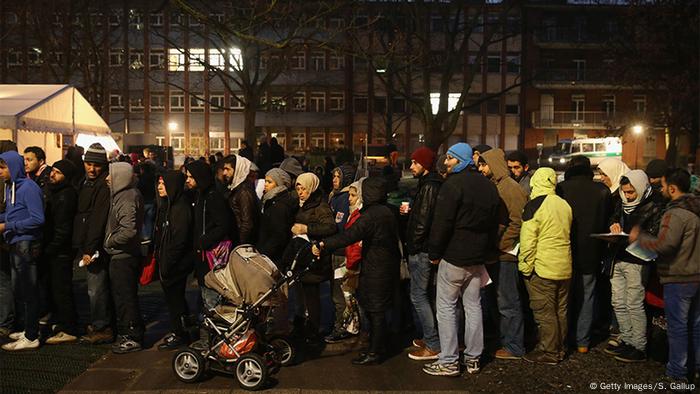 Heer says foreign doctors are needed to help cope with Germany's refugee influx
Shekho fears it will take at least a year before he can work again. "Once we apply for the exam it takes eight or nine months to get a date," he says. "We also have to do a course which starts in early 2017. It takes eight months as well. It is really, really difficult. Before, we were out of work and it was normal. Now it is hard. I do not sleep anymore."
The accreditation process for foreign doctors is far too bureaucratic and confusing, says Heer. He wants the health authorities to recognize that doctors who come from conflict zones often cannot provide complete proof of their training, even though they are an asset to the German health system.
Political will 'missing'
"What is missing is the road map towards that integration, the legal simplification, the capacity to support these people," says Heer. "What is also missing is the political will to tackle this problem and that is disappointing for us, because we have realized that it can be done."
The German health sector needs more doctors. An ageing population demands more treatment. At the same time, more and more doctors retire. Too few are being trained to meet the shortfall. As a result, there is a rising reliance on medical staff from abroad.
In 2015, 37,878 foreign doctors worked in Germany, compared to 15,062 in 2005. They made up more than 10 percent of the country's medical profession last year. Nearly 2,000 of them came from Syria.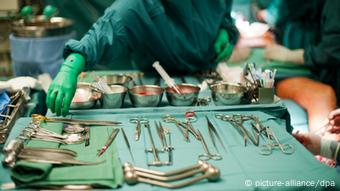 Nearly 2,000 doctors from Syria worked in Germany in 2015
The challenge now is to fill the gaps in the health system while ensuring patient safety. The Department of Health in Schleswig-Holstein, where Shekho works, says: "Measures have been drawn up to help foreign medical practitioners into the health service and to ensure they have the right language skills. They include restricted work under the supervision of German colleagues to improve their language skills, or special training courses which start next January."
The department also argues that Shekho and his colleague were told last year that they need to take the competency test. It told DW that 57 foreign doctors have sat the exam and passed it since the start of 2015.
But the process to obtain a work permit is complicated. There are 22 accreditation departments in Germany. Some federal states have more than one. They set their own criteria and there is a perception that some states are stricter than others.
Central assessment body
That is why organizations like the Marburger Bund, which represents doctors employed in the health service, have called for the system to be harmonized. It is beginning to happen. Ruth Wichmann from the Bund's international department welcomes the fact that a central assessment body is being created in each federal state.
"Evaluating foreign medical diplomas is a complex task," she says. "The centralization of expert knowledge is the best way to establish an efficient, fair and transparent evaluation process. It remains to be seen to what extent the authorities utilize the services of the central assessment body and how its work develops."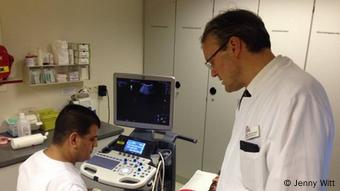 Shekho (left) and Heer have worked togther for the past several months
Back at the Friedrich Ebert hospital, a young man in visible pain is being assessed by Shekho. He speaks Kurdish with this patient; Arabic or English with others, and German with the local patients he treats.
"You can reach a first diagnosis quickly and without misunderstanding," he says. "You understand the mentality, too. Many patients also tell us that they look for a Syrian doctor because they cannot explain their problems otherwise."
Clinic director Heer insists that the health service does need doctors from abroad. "It takes a German doctor up to five times as long to assess someone with a refugee background if you don't have the language and the expertise, like our Syrian colleagues. That is a significant challenge for our clinic and the wards where those patients are cared for."
The number of refugees reaching Germany may be falling, but the number of foreign doctors continues to rise. The health service needs to integrate them while maintaining standards and patient safety.
That is a challenge which Heer feels it is worth taking on: "If we managed as a society to match up the lack of specialist medical staff with those who have fled here, if we succeeded at integrating those two, then two problems could combine to become a solution."