Angela Merkel told German broadcaster RBB that companies should integrate refugees into the job market quicker. On Wednesday, the chancellor spoke with German executives in Berlin about their lack of hires and exchanged ideas with them about how they might do better.
"Many are in integration courses or waiting to get into them," Merkel said of refugees. "I think we will need to show some patience, but must be ready at any time to develop viable solutions."
Companies have blamed refugees' lack of proficiency in German, an inability to prove credentials and precariousness while awaiting decisions on their status for the lack of hires. Merkel said the government could develop provisions to speed up the integration of refugees into the workforce - but she acknowledged that this would still take time.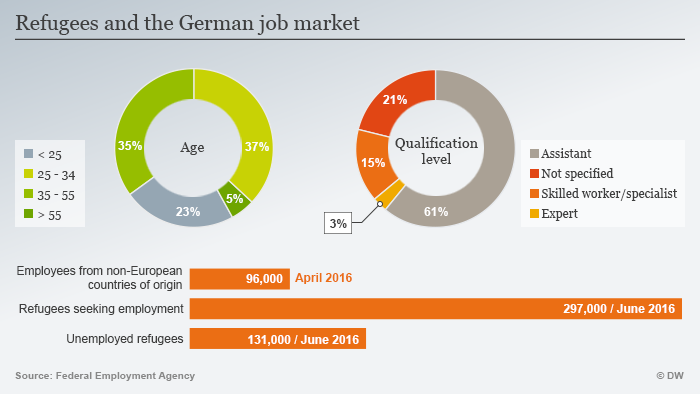 'Loan program'
About 346,000 people with asylum status sought jobs in August, the Federal Employment Agency reported, up from 322,000 in July and 297,000 in June. When large numbers of refugees began arriving in 2015, officials expressed optimism that Germany could use their labor to boost growth and plug the social security revenue gap.
The lack of hires, however, has delayed this. Merkel seemed to offer at least one solution to that in her interview with RBB on Thursday.
"We recently discussed in the cabinet that transliterating a Syrian driver's license into German costs 500 euros ($560)," Merkel said. "And, naturally, a refugee doesn't have 500 euros right away. So maybe a loan program could help. When the person starts earning, he can pay the 500 euros back. Professional drivers are especially sought out."
On Thursday, Germany's national rail carrier, Deutsche Bahn, announced that it was all aboard with Merkel's intentions. Over the next two years, DB will create 150 additional spots for refugees in its qualification program, a spokesman said Thursday in Berlin, adding that DB chief Rüdiger Grube had pledged the carrier's help when speaking with Merkel at the meeting of executives. DB had created spaces for 120 refugees in its qualification program starting in 2015; the training includes German-language courses.
Deutsche Post DHL employs about 100 refugees to sort and deliver parcels. National internet service provider Deutsche Telekom has announced plans to hire about 75 refugees as apprentices this year, but has not made a permanent hire from the million people who arrived in the past year, Reuters reported.
mkg/nm (Reuters, AFP, epd, dpa)