Some small horses stand together in a group while cattle graze on another part of the meadow. Located not far from the city of Koblenz in central-western Germany, this land - called "Schmidtenhöhe" - offered a refuge for plants, animals and humans even before the German army (or Bundeswehr) withdrew its battalion of tanks in 1992, some two years after German reunification.
Environmental activist Heinz Strunk remembers how he almost broke down when he first heard about the army's plans to withdraw. At that time, the city of Koblenz was considering converting the pasture into a general-use area. There was even talk about building a test run for trucks.
Heinz Strunk instead suggested safeguarding the wide-open meadows - which had been created by tanks. "At that time, the only way to do that was to fence off the pastures, and have cattle and horses graze on them," Strunk says.
From military lands to nature preserve
Throughout the years of military stand-offs between the East and West during the Cold War, soldiers drove around heavy tanks here in preparation for war. This left its mark.
"The advantage to this vegetation-sparse, furrowed landscape was that during all those years, no fertilizer, liquid manure or pesticides were used on it," Strunk explains.
"Nor had any streets or buildings been constructed, which would have fragmented the land," Strunk continues. "So it really was an ideal space for rare species."
Strunk managed to convince politicians - and the "Schmidtenhöhe" became a designated natural reserve, and a national natural heritage site.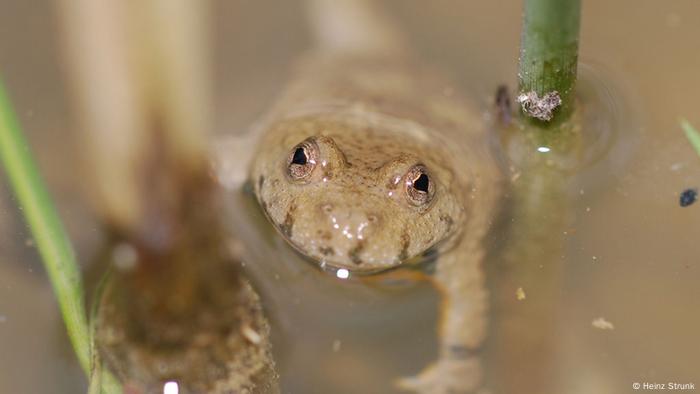 Rare toads live in shallow puddles that form when rain fills imprints in the soil made by heavy tanks
The environmental nongovernmental organization "Naturschutzbund Deutschland," for which Strunk is a campaigner, was asked to assume responsibility for the area. Its mission: sustain biodiversity.
Small, semi-feral horses originating from Poland were reintroduced to prevent scrub from encroaching on the wide meadows. The Koniks or Polish primitive horses are related to the extinct Tarpan horse. They can be kept outside all year round, and their consistent grazing prevents the encroachment of shrub.
Taurus cattle - also an ancient breed - were introduced as well, and found ideal conditions year-round in the rugged landscape left behind by the tanks.
Habitat for birds and amphibians
Almost daily, Heinz Strunk - who is retired - visits Schmidtenhöhe. He takes both children and adults on excursions to show them several of the 15 varieties of orchids, or rare birds like the red-backed shrike.
Strunk has registered around 140 different birds, as well as toads. Amphibians use as habitat the shallow puddles resulting from depressions made by the heavy tanks that once rolled over these grounds.
Due to its high biodiversity, Schmidtenhöhe has been made part of an EU-wide network of nature protection areas. Visitors have only restricted access to the preserve.
Only one weekend per year do military sounds disturb the birds' chirping on Schmidtenhöhe: When members of the local Military Vehicles Drivers Koblenz club gather to maintain and drive military vehicles.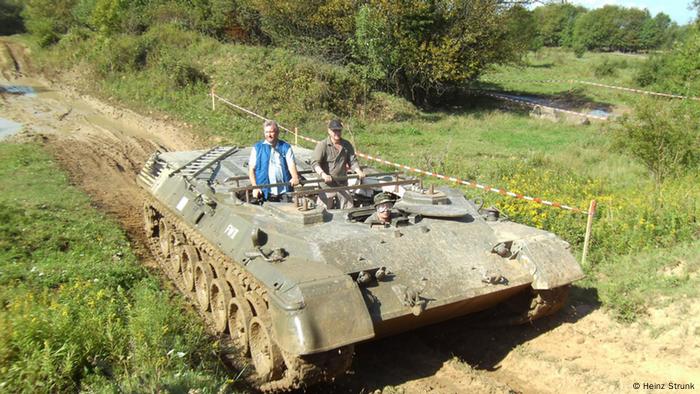 Even Strunk sometimes climbs into a tank, to show others the way
He says the tanks even create an environmental benefit: "These heavy vehicles create these hollows that fill with water when it rains," he explains.
As a manual restoration measure, that might cost up to 15,000 euros per year, Strunk says. "That's why we're happy to see this club drive their military vehicles here."
The toxic legacy of conflict
Yet other areas that served as military drill fields were left severely contaminated.
To this day, military training areas on land in former East Germany are rife with depleted and even live ammunition, along with oil and diesel fuel from military vehicles.
On the so-called Bombodrom, for instance - an area used by Soviet troops between 1952 and 1993 - ammunition, grenades, mines and even cluster bombs can be found.
The nature park "Stechlin-Ruppiner Land," along with an environmental foundation, are now aiming to foster nature conservation and nature tourism on this 119-square-kilometer area. It's abundant with heathland vegetation - and dangerous waste.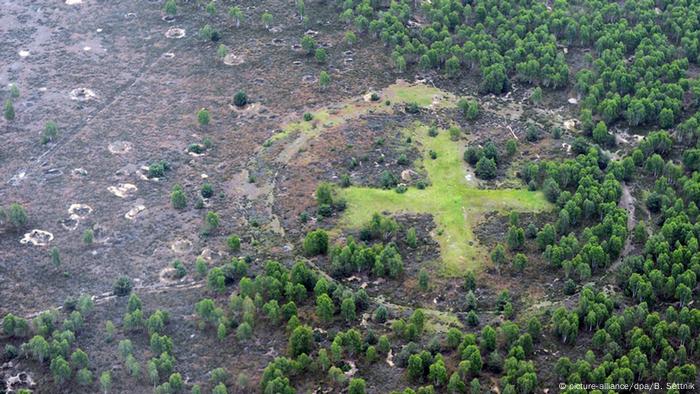 In this photo from 2012, the legacy of bombing is still clearly visible, on and around the marked target
Lothar Lankow, now 63 years old, was an ammunition expert during GDR times. He's now in charge of site security for the Heinz Sielmann Foundation, named after a famous German producer of wildlife films.
Specialized firms took care of removing live munition, says Lankow. "They first scanned the soil with special sensors," he explains. "Then, they manually dug up the ground, while dredgers dug up deeper layers
"It was all done very, very carefully," Lankow adds.
Rainer Entrup, who is charge of forest affairs at the German Agency for Real Estate Administration, said complete decontamination would cost at least 500 million euros. Until that money is found, warning signs are posted, and some areas are closed off with barriers.
Starting in spring of 2016, horse carriage tours will be offered, allowing tourists to explore areas that have been cleared of mines and ammunition.
Lankow's task then will be to explain conservation goals: safeguarding and maintaining the heathland vegetation, and slowly transforming pine monocultures into mixed woodland.
Once a stomping ground for Soviet troops, the region is gradually going wild: Wolves, hoopoes and osprey are already being sighted there.