German President Joachim Gauck arrived to neighboring Czech Republic on Sunday (04.05.2014) where he is due to meet with Czech President Milos Zeman. It is Gauck's second visit as head of state to the country, with its population of 10 million.
Gauck and Zeman are also expected to visit former Nazi concentration camp Theresienstadt, where 33,000 people were killed under the Nazi regime until 1945.
During his first visit in 2012, Gauck set an example by visiting Czech villages that had been destroyed by the Nazis. He was the first German head of state to visit the sites.
He laid a wreath at a memorial to the children of Lidice, who were murdered during World War II. Gauck was praised for writing a letter to then-President Vaclav Klaus on the occasion of the 70-year anniversary of the massacre. Gauck said Germany was aware of its historical responsibility and expressed "deep sorrow and shame" for the atrocities.
It was widely regarded as a breakthrough, as historian Pavel Suk put it at the time. It was "one of the most human acts from Germany after 70 long years," he said.
Controversial topic
Gauck is likely going to address another controversial topic this time around: the expulsion of the Sudeten Germans. After World War II, some 3 million Sudeten Germans had to leave their homes in what was then Czechoslovakia.
But the expulsion no longer seems to upset people, thinks Jennifer Schevardo of the German Council on Foreign Relations (DGAP). "These contentious issues don't hold any meaning anymore," she said.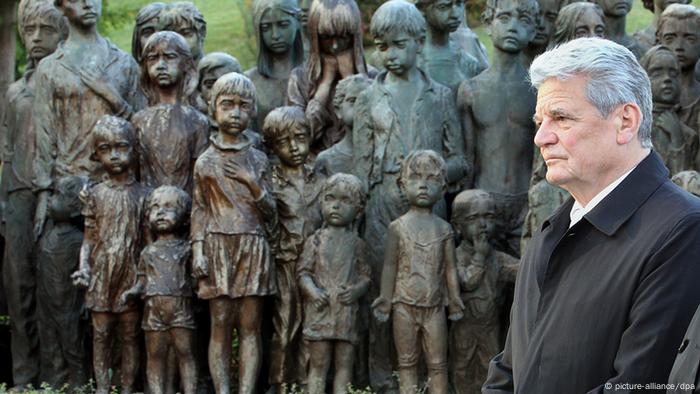 Gauck was the first German head of state to visit Lidice
A brief historic outline: In 1938, Hitler's troops invaded Sudetenland. One year later, the troops seized the rest of Bohemia and Moravia districts, and turned it into a "protectorate." Germany oppressed local Czech politics and culture.
Atrocities in the city of Lidice are among the worst German war crimes on Czech territory - men were shot, women and children were abducted. After the end of Nazi dictatorship, the Germans had to leave the area - sometimes being forced to do so.
According to German figures, up to 2,700 Germans were killed within a few hours in the city of Aussig, which today is called Ústí nad Labem. About 2.9 million people were expelled or fled the country. Czech politician Edvard Benes, who returned from exile, later authorized this expulsion by law - the Benes decrees would strain German-Czech relations for decades.
"My impression is that the topic has become less relevant in German-Czech relations - it definitely has lost any explosive effect," Schevardo said. She is convinced Gauck will again leave a positive mark during his visit.
"Today one is also allowed to criticize the expulsion - and also say that what happened was wrong," she said.
This view was echoed by Christiane Brenner of Collegium Carolinum, a research institute that focuses on the the Czech Republic's past and present, among other things. "We are at a point where only very few people are interested in that topic," she said.
Some novels and movies have dealt with this era of history in recent years, for example the 2009 German-Austrian-Czech co-production "Habermann," which portrays the fate of a Sudeten German family of entrepreneurs.
Close and good relations
"Germany and the Czech Republic have very good relations," Schevardo said. Relations are said to be especially good since Social Democrats are in office in both countries. In Germany, the Social Democrats have formed a grand coalition with Chancellor Angela Merkel's CDU.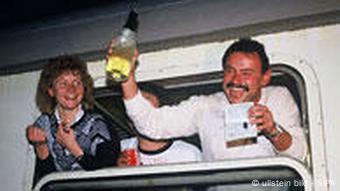 East German refugees were happy to leave Prague for West Germany
In addition to revisiting history, Gauck will likely also address topics such as Ukraine and German-Czech economic cooperation. According to Germany's Foreign Office, Germany accounts for one-third of the Czech Republic's foreign trade, and is by far the country's largest trade partner.
Since 1993, Germany has also invested close to 20 billion euros ($28 billion) in the Czech Republic, which largely relies on its car industry. Especially the German states of Bavaria and Saxony closely cooperate with the their eastern neighbor.
Germany and its neighbor to the southeast are also closely working together on foreign policy issues, and fighting crystal meth as attempts to smuggle the drug over the German-Czech border have picked up recently.
Gauck's visit could be a taste of what is to come for further travels to Germany's eastern neighbors. According to German newspaper "Sächsische Zeitung," the German head of state plans to kick off a so-called freedom tour through Eastern Europe in June.
This year marks 25 years of Germany's "peaceful revolution," a protest movement against the regime of the former German Democratic Republic (East Germany). Back then, former Czechoslovakia had played an important role in German unification: Several thousand East Germans occupied the embassy in Prague in 1989, demanding departure to West Germany.