German intelligence agency chief Hans-Georg Maassen said in an interview with Reuters on Wednesday that he was worried about the potential extent of Russia's influence on German voters.
"Last year we saw that public opinion in Germany was influenced by the Russians," Maassen said, who is the head of the Federal Office for the Protection of the Constitution, Germany's domestic intelligence agency.
Asked if he saw this danger also for the pending federal election campaign, he replied: "This could also take place next year, and we're alarmed."
During the interview, Maassen referred specifically to the case of the alleged abduction of Lisa, a Russian-born girl from Berlin. Russian Foreign Minister Sergei Lavrov publicly exhorted the German judiciary.
Germany rejected the warning, however, as it turned out that the girl had not been abducted after all. According to Berlin authorities, she had in fact run away from home and then sought a convincing cover story.
"We feel that this is part of a ... hybrid threat, where public opinion and decision-making are being influenced," Maassen said, adding that it was important to make the public aware.
"The best way is to talk about it," he said. "When people realize that the information they receive isn't true, but propaganda and disinformation, then the poison of the lie ultimately loses its effect," he added.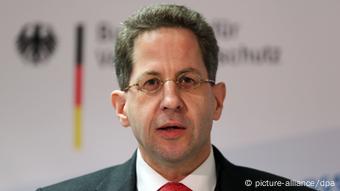 Presient of Germany's intelligence agency - the "Verfassungsschutz" - Hans-Georg Maaßen
'Deepen EU divisions'
Maassen's interview on Wednesday echoed comments made by German Chancellor Angela Merkel last week, in which she warned of Russian cyber attacks and a disinformation campaign in the run-up to next year's election.
"Even now, we're already having to deal with information out of Russia or with internet attacks that are of Russian origin or with news which sows false information," Merkel said.
Russia has already carried out an information campaign, highlighting Germany's problems with integrating refugees - a hot-button political issue that has raised support for the anti-immigrant and eurosceptic Alternative for Germany (AfD).
Berlin also suspects Russia to be behind a number of cyber attacks on German institutions, including a massive attack last year on the Bundestag, Germany's lower house of parliament, as well as separate attacks on the headquarters of Merkel's conservative Christian Democratic Union (CDU).
Analysts have said Russia is targeting Germany with cyber attacks and disinformation in an attempt to deepen existing divisions within Europe's largest economy and destabilize the European Union, particularly by supporting right-wing populist, anti-European groups in the bloc's member states.
Kremlin denies US claims
In the United States, the American intelligence community has already formally accused Russia of cyber attacks, intended to influence last week's election.
The public acknowledgment from the US government followed claims by US officials and the Democratic Party that Russia was responsible for a spate of cyber attacks in recent months, including one against the Democratic National Committee.
The leaks appeared on WikiLeaks, DCLeaks.com and websites tied to the hacker Guccifer 2.0.
Kremlin spokesman Dmitry Peskov said that the accusations were "nonsense," however, insisting that Russian systems were constantly under cyber attack.
ksb/sms (Reuters, AFP, dpa, AP)