A German soccer player with Turkish-Kurdish roots on Monday said that he was shot at while driving on the A4 Autobahn near the western German town of Düren.
Deniz Naki, who currently plays for a Kurdish team, told German newspaper die Welt that he had been driving in the far-right lane on the highway on Sunday night when he "suddenly heard shots." He said that the shots came from a black car driving in the left lane.
"I immediately ducked and then rolled right to the hard shoulder," the 28-year-old told Welt. "I feared for my life."
Read more: Who are the Kurds?
Welt reporter Ibrahim Naber posted pictures Naki took of his car after the shooting, showing damage to one of the car's windows as well as near a tire. Naber identified what appeared to be a piece of metal lodged in the glass as a "bullet."
Naki was unharmed in the shooting and reported the incident immediately to police.
Police in Aachen, who are investigating the case, said that a car had been fired at on the A4, but declined to confirm Naki was the driver. A police spokesperson told news agency dpa that the prosecutor's office in Aachen is investigating it as an attempted homicide.
Read more: Germany and Turkey in 2017 — a rollercoaster relationship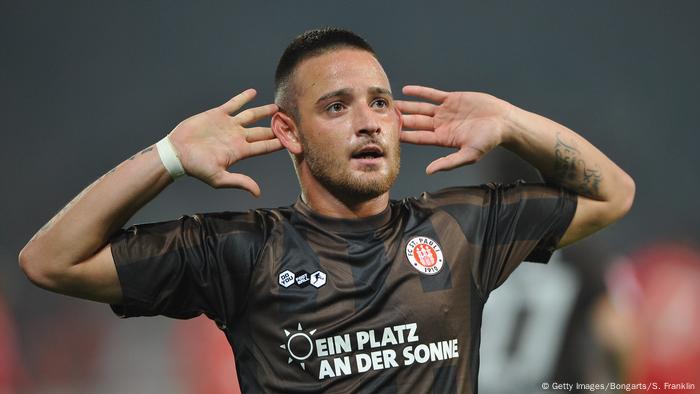 Naki previously played for FC St. Pauli and SC Paderborn
Possible political motive
Naki, who has been outspoken about military operations against Turkey's Kurdish ethnic group by President Recep Tayyip Erdogan's government , said he believed the attack was politically motivated.
"I think that this is about a political issue," Naki told Spiegel magazine's online platform Bento. "I am a continual target in Turkey because I make pro-Kurdish statements."
Read more: No place for Turkish 'climate of fear' in Germany says Green's Cem Özdemir
Cansu Özdemir, a Left party politician in Hamburg's state parliament with Turkish roots, said on Twitter the shooting was an "murder attempt."
"The murder attempt on Deniz Dersim Naki makes it clear: Members of the [Turkish] opposition in Germany are not safe. I worry that Erdogan's hit squads will continue until every person that bothers them is silent," she wrote, adding: "This serious threat level cannot continue to be understated."
Naki was raised in Düren and played for the German clubs FC St. Pauli as well as SC Paderborn. He currently plays for the third-tier Kurdish team, Verein Amed Sportif Faaliyetler.
Last May, Naki was given an 18-month suspended sentence for spreading "terrorist propaganda" after he posted statements on social media related to the banned Kurdistan Workers' Party (PKK).