For years, there was hope that gas fields under the eastern Mediterranean Sea would usher in peace and prosperity in a volatile region. But a string of recent deals and gas finds have revealed deep geopolitical fault lines.
Since 2009, Israel, Egypt and Cyprus have made a series of large-scale gas discoveries in the Levant Basin, where the US Geological Survey estimated in 2010 that 122 trillion cubic feet (3.5 trillion cubic meters) of gas and 1.7 billion barrels of oil lie under the seabed.
The discoveries raised the prospect of regional integration of energy markets and the potential for gas to run to Europe. But, for the past decade, much gas development has been geared towards local markets and some deposits sat in the ground as energy players scrambled to find ways to export and create economies of scale.
In recent months there has been a flurry of deals and a major gas discovery, prompting Turkey to once again flex its muscles in the eastern Mediterranean. It has also shifted the balance toward Egypt becoming a major energy hub in the region.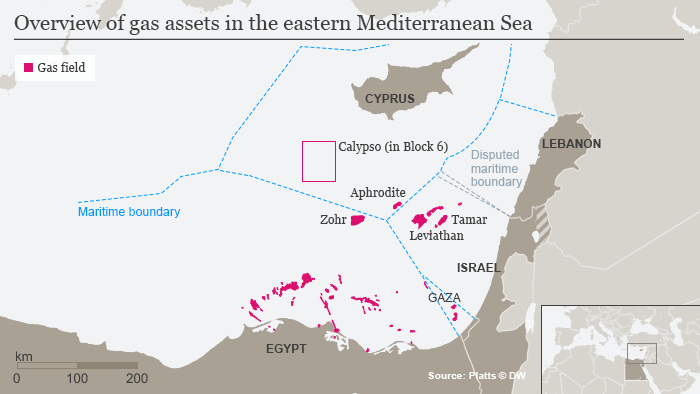 String of discoveries
On February 8, Italy's Eni and France's Total announced a "promising gas discovery" at the Calypso block off the coast of Cyprus, which they said confirmed the extension of a "Zohr-like" play, a reference to a massive Eni-operated offshore gas field discovered off Egypt in 2015 that went online in 2017.
The find was a major boost for Cyprus, which had struggled to revive momentum after repeated disappointments since its first gas find at Aphrodite in 2011.
Two weeks later, Israel announced a $15 billion (€12 billion) deal for Egypt to buy gas from Israel's Tamar and Leviathan offshore fields. Under Israeli law, 60 percent of gas must be for domestic consumption.
Read more: Israel announces major gas deal with Egypt
The deal positioned Egypt, formerly a gas exporter to Israel and Jordan, to act as a potential energy hub as it develops offshore gas fields for domestic consumption and future export.
Those deals came weeks after Cyprus, Greece and Israel signed a memorandum of understanding to build a gas pipeline to Europe, which seeks to diversify away from Russian gas.
Read more: Germany approves Nord Stream 2 gas pipeline
Cyprus and Egypt already have development deals and are in talks to export gas from Cyprus to Egypt to achieve economies of scale by using Egypt's already existing processing infrastructure.
Turkey's gunboat diplomacy
Gas diplomacy in the eastern Mediterranean has solidified already existing relationships between Cyprus, Greece, Israel and Egypt.
At the same time, it has sharpened disputes with Turkey, which already has tense hostile relations with the four other states. Lebanon and Israel are also in dispute over offshore gas fields.
Read more: Hezbollah: Lebanon must be firm in Israel energy dispute
Ankara claims a right to natural resources off its continental shelf and aims to protect the interests of Turkish Cypriots on the divided island.
In February, Turkish warships blocked Eni's drilling ship off Cyprus. Ankara has threatened to follow suit with any other exploratory vessels. Turkish Cypriots have granted exploration rights to several blocks to Turkey's national oil company, Turkish Petroleum.
Read more: Turkish warships block drilling rig near Cyprus
Donald Tusk: 'No concrete solutions' at EU-Turkey summit
In late March, the European Council backed EU member Cyprus, calling on Turkey to "cease these actions and respect the sovereign rights of Cyprus to explore and exploit its natural resources in accordance with EU and International Law."
The statement was swiftly rejected by Turkey.
"The No. 1 problem is the EU accepting the Greek community as the sole owner of the island without taking into account the rights of the Turkish community," said Necdet Pamir, a petroleum engineer and chair of the Turkish opposition CHP's energy commission.
He said that instead of using gas as a carrot and stick in negotiations to resolve the intractable Cyprus dispute, Greek Cypriots should jointly develop and explore with the Turkish Cypriots.
"If you can work together in such a way, it may help to solve your political problems," he said.
Egypt coming out ahead
The discovery of Egypt's Zohr field in 2015 was a game changer in the eastern Mediterranean. One effect was to make Cyprus' Aphrodite field suddenly viable if it were part of a larger regional project.
The Zohr discovery also prompted oil companies to renew their search for gas off Cyprus, leading to the Calypso find in February.
The net effect of the Israel-Egypt deal and gas finds, alongside Turkey's tensions in the neighborhood, has been to make the option of an Egyptian gas hub increasingly appealing.
"Everything right now is moving in the direction of Egypt," said Gabriel Mitchell, a policy fellow at the Israeli Institute for Regional Foreign Policies.
Large international energy projects need economic, technical and political feasibility.
"When you look at the more northern routes that have been suggested over the past couple years, the option via Greece and Italy, the option via Turkey, they didn't check off all the boxes," Mitchell said.
Egypt has two mothballed liquefied natural gas export terminals that would make it easier for Israel and Cyprus to export gas without building their own terminals.
The gas could be used to meet Egyptian domestic demand or mixed with Egyptian gas for export.