France pushed backed Thursday against a proposal by German Olaf Scholz, also the vice chancellor, to turn the French seat at the UN Security Council into a join EU seat.
"When defending our national positions, we take all European positions into consideration," the French Foreign Ministry said in a statement. "We actively participate, together with Germany and all other member states, in the coordination of the EU's position."
France said it was open to reforming and expanding the Council, however, "in order to allow Germany, as well as Japan, Brazil, India and two African countries, to become permanent members."
France currently holds one of the Security Council's five permanent seats, alongside the US, Russia, China and the UK. Germany was elected this year as a non-permanent member for 2019-2021. Permanent members have veto power while non-members do not.
As a bloc, the EU currently has permanent observer status without voting rights at the UN.
Read more: High hopes for Germany's UN Security Council membership
Calling on France from Berlin
On Wednesday Scholz had called on France to convert its seat into joint EU seat. "In exchange, France will get to permanently choose the EU representative to the UN," he said in Berlin.
"It is clear to me that there is undoubtedly work needed to be done when it comes to convincing Paris," Scholz added, "but it would be a bold and smart goal."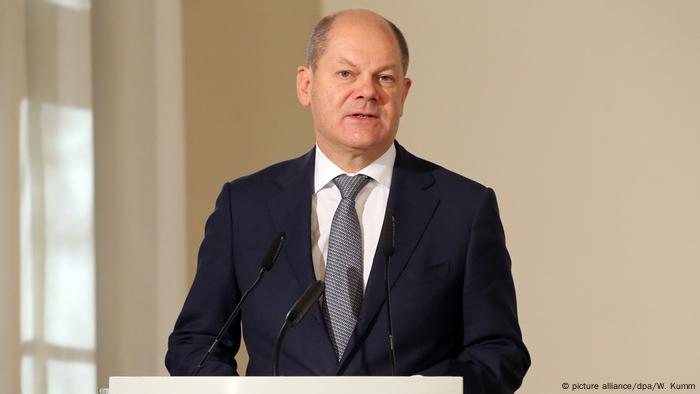 Scholz issued his call to France during a speech on Europe in Berlin
Scholz is a member of the Social Democratic Party (SPD), which jointly governs with Angela Merkel's conservative Union parties, and as vice chancellor is number two in the government.
His call is a modification of a longstanding push, once spearheaded by the SPD, to secure Germany a permanent seat on the Council. While in the late 1990s Germany had supported the idea of a joint EU seat, in the early 2000s under SPD Chancellor Gerhard Schröder the country began to push for its own permanent seat. Merkel later cautiously expressed support for the idea as well. Germany agreed with Brazil, India and Japan to support one another's efforts and those of two African nations to earn permanent council places, albeit without initial veto rights.
Expanding the Security Council, and especially increasing the number of countries with veto powers, is a controversial proposal within the UN. Many UN initiatives already fall at the hands of a veto, typically either from the US or Russia. The interwar precursor to the UN, the League of Nations, required unanimity on all decisions, effectively granting every member a veto; besides the lack of the US, Russia and Germany as members, this is often highlighted as the organization's single greatest structural flaw.
No seat, merci beaucoup
The French Foreign Ministry's official rejection of Scholz's proposal followed a statement from the French Embassy in Washington, DC, that the proposal violated the UN Charter, AFP reported.
Read more: Emmanuel Macron calls for unified Europe in Bundestag address
The Ministry's official statement, carried on its Washington Embassy's website, played down any bilateral tension.
France is "willing to coordinate our positions with Germany, in the spirit of the French-German partnership, to which we are deeply attached and in accordance with the Charter."
The Ministry had not shared its view on its official German-language twitter feed as of Thursday evening.
cmb/msh (AFP, dpa)
Each evening at 1830 UTC, DW's editors send out a selection of the day's hard news and quality feature journalism. You can sign up to receive it directly here.