From curious grannies to committed "food-savers", everyone who came to "The Good Food" when it opened on February 4 was excited by a shop unlike anything they had ever encountered before.
The store in the German city of Cologne is the first of its kind in the country and the third one in the European Union. It sells products of all kinds, from vegetables to beer. And the unusual thing is that all these products would otherwise have been destroyed as waste.
The other peculiar thing about "The Good Food" is that there are no fixed prices. Consumers decide how much they think a product is worth.
You only need to take one look at the figures to understand why Nicole Klaski decided to start "The Good Food". Every year, one third of the food produced in the world gets wasted. If we saved just a quarter of that wasted food, we could feed almost 900 million hungry people, according to the Food and Agriculture Organization of the United Nations (FAO).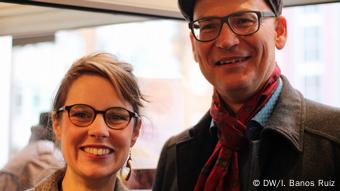 Klaski and Thurn want to stop food waste.
Valentin Thurn is an author and the award-winning director of the "Taste the Waste" documentary. He came along to the opening to celebrate what he sees as a positive move to combat food waste. But he also told DW there were still major challenges to be overcome.
"This idea is simply great," Thurn said. "I still cannot understand why we throw so much food away!"
The starting point
Well, actually, he says, he does have some idea. "The trade knows we prefer to buy something that looks perfect," he said.
Indeed, the FAO's information shows that at retail level, food is mostly wasted because it does not look attractive.
Klaski told DW it was time to take action to change this. She goes into fields after they have been harvested and collects the vegetables left behind. Some of them are deemed too big, some too small, some just too ugly to sell.
In her shop, the organic food then becomes accessible to everyone using a "pay what you think" system. Buyers can also find non-perishable products from big manufacturers which have passed their sell-by dates.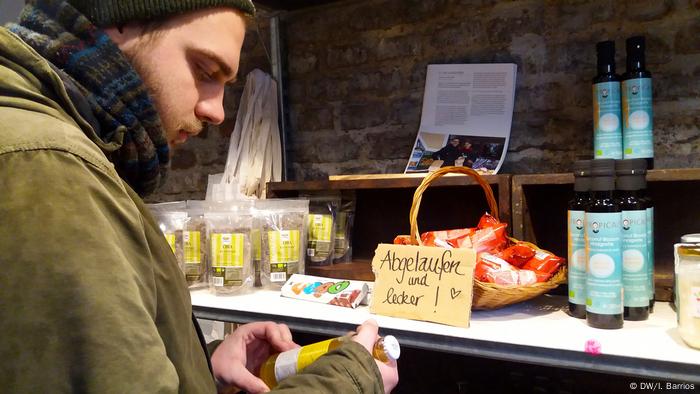 A customer checks the label on a bottle from the "past the date but delicious" shelf.
"No one wants to throw the food away," Klaski said. "We save the vegetables and expired products, and the producers are happy that their food is still eaten." For her, the system is a "win-win cooperation."
What about health risks?
Some of the curious visitors having a look around "The Good Food" admitted they would not buy certain products if they were past the date. Others, however, said it was easy to tell by the color or smell if a product was still in good condition or not.
Klaski herself is not worried that there could be health risks involved. "The expiry dates on products are only a suggestion for the consumer," she told DW. "Most of the products last much longer."
But in the unfortunate event that someone really did get sick, someone has to carry the responsibility. That is why Klaski says the team takes their duty very seriously to inform consumers when a product is out of date.
"And, of course, if something happens we will have to take the responsibility," she added. "But we are even willing to do that; it is worth trying."
Part of a broader movement
Contrary to traditional supermarkets' aim of making a profit, "The Good Food" aims at having a social impact.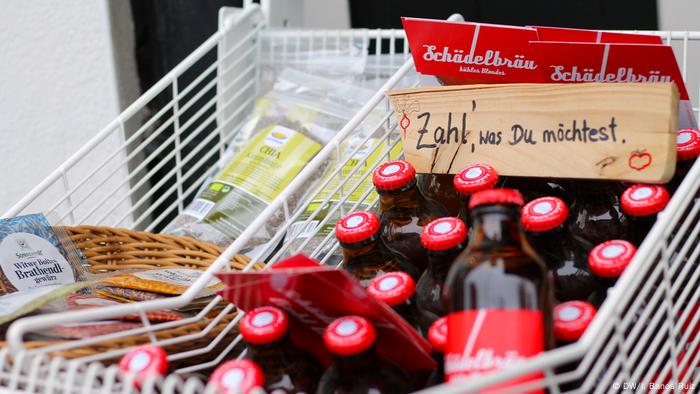 "Pay what you like", says the sign on these products.
"Our highest expectation is to raise awareness on the problem food waste represents," said Anja Rickert, a member of the team at "The Good Food".
She believes initiatives like this can motivate people who were not previously aware of issues relating to a sustainable lifestyle.
Klaski is convinced that once the first step is taken, the rest follows on. The food waste shop is part of a broader movement to reduce consumption and be aware of how we consume, she said. The furniture used, for instance, is all second hand or recycled.
And most of the consumers seem to share the same philosophy. "Coming here represents more than just buying food, it is a way of life," one of the clients told DW.
Beyond the social movement
Author and film-maker Valentin Thurn has observed a huge change in attitudes since he produced "Taste the Waste" in 2010:
"At that time nobody spoke about food waste, literally nobody," Thurn said. "Now many people are involved, even politicians."
However, despite strong social movements such as food-sharing, food waste remains one of the major challenges of our time. Merchandising the leftovers is not enough to combat it, Thurn is convinced. He believes imposing economic penalties could be the only effective way to really reduce waste.
"We have to find real solutions to reduce over-production," he said. And this can only be done through legislation to influence the economy and businesses models.
"It's not enough to rely on action from a few big business leaders who are aware of environmental issues," he concluded.