Austrian authorities said more than 7,000 people had walked over the border from Hungary on Saturday. The Austrian state railway company estimated it would have transported 7,500 migrants before stopping services for the night.
A total of about 6,000 people had passed through Munich's central station by Saturday evening according to Simone Hilgers, the spokeswoman for the agencies in Upper Bavaria providing migrants with immediate support.
All were given food and drink, and most were housed in temporary accommodation. Munich police said Arabic-speaking interpreters were helping refugees with procedures at the emergency registration centers.
"We are giving a warm welcome to these people today," Hilgers said. "We realize it's going to be a big challenge but everybody, the authorities and ordinary citizens, are pulling together."
A 28-year-old veterinarian from Hama in Syria said he fled to avoid mandatory military service. "They asked me to join the army. I am educated. For years I've been holding a pen. I do not want to hold a weapon," Sami Al Halbi told the Associated Press. "We all want to have a better future."
The migrants were given an unexpected reception as they arrived in Austria and in Germany after some difficult days in Hungary. Waiting Austrians held signs that read "Refugees welcome," and well-wishers brought supplies, food and toys for the children arriving exhausted after days and weeks of travel.
Exceptional day
Harald Neymanns, a spokesman for the German Interior Ministry, said Berlin's decision to open its borders to Syrians was an exceptional case for humanitarian reasons. He stressed that the requirement for people to apply for asylum in the first EU country they enter had not been suspended.
"The Dublin rules are still valid and we expect other European Union member states to stick to them," Neymanns said on Saturday. Chancellor Angela Merkel confirmed the decision in a telephone conversation with Hungarian Prime Minister Viktor Orban.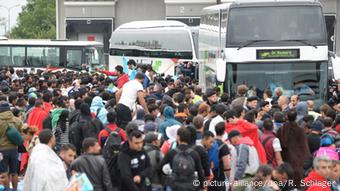 On Friday, Hungary sent buses to transport refugees to the Austrian border
Orban's anti-immigrant and anti-foreigner government has been quick to condemn Germany's acceptance of hundreds of thousands of asylum applications from Syrian refugees. "It's not 150,000 [migrants coming], that some [in the EU] want to divide according to quotas," Orban said. "It's not 500,000, a figure that I heard in Brussels; it's millions, then tens of millions, because the supply of immigrants is endless."
Merkel was also criticized for her decision by the CSU sister party in her government coalition, with Bavaria's Interior Minister Joachim Herrmann saying Saturday that "it can not go on like this."
Herrmann said that every refugee coming to Europe was heading for Germany, and the country could not afford to deal with the situation alone. It was a "completely wrong signal within Europe" he said, which should be corrected.
Hundreds more refugees began to walk from Budapest toward the border with Austria on Saturday. But Hungarian authorities said there would be no more buses to transport them to the border.
"The provision of buses towards Austria was a one-off and there will not be more vehicles sent to refugees walking along the road toward Vienna," Hungary's police chief Karoly Papp told a news conference.
EU foreign ministers meet in Luxembourg
A meeting of EU foreign ministers in Luxembourg on Saturday failed to agree on any practical steps for dealing with the record number of migrants arriving in Europe.
Austrian Interior Minister Johanna Mikl-Leitner expressed frustration at the lack of action. "Given the challenges facing our German friends as well, all of Europe needs to wake up," she said. "Whoever still thinks that withdrawal from the EU or a barbed wire fence around Austria will solve the problem is wrong."
Chancellor Merkel has called for an overhaul of EU refugee policy.
Austrian Chancellor Werner Faymann called for an emergency summit of European leaders on September 14.
jm/cmk (AFP, AP)