Sipila told Finnish television on Saturday that he and his wife had decided to make the house in central Finland available from January. The house has been empty since the family moved to Helsinki.
Sipila's offer is likely to cause tensions within his center-right governing coalition which comprises his own Center Party, the pro-EU conservatives and the populist, euroskeptic Finns Party, given rising unemployment and recession.
The Finns Party is the second largest in Finland, with a policy of wanting tougher immigration laws, although it has distanced itself from Europe's far-right parties.
The Sipila's spare home is in Kempele, a central Finnish town of 17,000. Details about the size of the house and how to apply were not immediately available.
Sipila, a former telecoms executive, made the offer on Finnish MTV television following complaints over the opening of refugee centers in towns across the sparsely populated Nordic nation.
"I ask everybody to stop all hate speech and concentrate on taking care of people that are fleeing from war zones, so that they feel safe and welcome here in Finland," Sipila said.
'Genuine welcome'
"We all should think what we can do ourselves," he said. "The more citizen activity we can find to [resolve] this matter, the better."
An asylum seeker "deserves a human treatment and genuine welcome greeting from us Finns," he added.
On Friday, Sipila's government doubled its refugee arrivals estimate for this year up to 30,000. Last year, 3,600 sought asylum in Finland.
The Sipilas have another house near Helsinki as well as use of a government residence.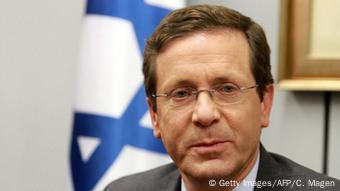 "Jews cannot be indifferent," said Herzog
Offer safe haven: Israeli opposition leader
In parallel initiative, Israel's opposition leader Isaac Herzog said Israel should take in Syrian asylum seekers.
"Jews cannot be indifferent while hundreds of thousands of refugees are seeking a safe haven," he told the "Haaretz" newspaper.
"I call on the government of Israel to act towards absorbing refugees from the fighting in Syria, on top of the humanitarian steps that are already being done," he added.
Herzog leads the Labour party, the largest opposition bloc in parliament.
Palestinian President Mahmoud Abbas has urged Israel to allow Palestinian refugees fleeing the war in Syria to travel to the West Bank and Gaza for shelter, instead of making the risky passage to Europe, according to the Palestinian news agency WAFA.
Abbas was apparently referring to Palestinian refugees whose families were expelled when Israel was founded in 1948 and who have left Syria since the outbreak of its civil war in 2011.
Israel has treated many wounded from the Syrian civil war raging next door but has so far stopped short of opening its border to citizens of its longtime enemy.
This year, Israel's military has carried out a number of raids and airstrikes on suspected Hezbollah sites and Syrian army targets on the Syrian side the Golan Heights after rockets were fired at Israel's Galilee region.
Israel seized 1,200 square kilometers (460 square miles) of the Golan plateau from Syria in the 1967 Middle East war and annexed it 14 years later. That move has never been recognized by the international community.
ipj/cmk (AP, Reuters, AFP)