Video footage from Munich's main station on Saturday showed droves of people streaming out on the platforms after arriving on trains from the Austrian capital, Vienna. The station was already packed with locals who turned out to greet the refugees, breaking out into applause every time a train arrived with new migrants. Some also held up signs reading "welcome."
Both Austria's national rail carrier Österreichische Bahn and Germany's Deutsche Bahn, had laid on extra trains and staff to cope with the thousands of refugees and migrants who had crossed several Balkan countries over land, many of whom had fled conflict zones such as Syria or Iraq.
From there, they were directed to tents where they were to be registered, before being transported to refugee camps around the country. According to the German Interior Ministry, the federal government and the country's 16 states were coordinating their efforts, to get up to 7,000 new arrivals accommodated by the end of the weekend.
Relief at reaching Austria
Some of the migrants spoke of their relief at finally being able to leave Hungary, which is run by the anti-immigrant right-wing government of Prime Minister Viktor Orban.
"It was just such a horrible situation in Hungary," a man named Omar told the Reuters news agency after arriving in Vienna with his family.
"We're happy. We'll go to Germany," said Mohammed, who said he was from Syria.
"Hungary should be fired from the European Union. Such bad treatment," another, who declined to give his name, told Reuters.
Late night agreement a one-off
The latest influx of migrants came after German Chancellor Angela Merkel and her Austrian counterpart, Werner Faymann, announced late on Friday that they had agreed that the migrants who had been stranded in Hungary for days should be allowed to cross into their countries.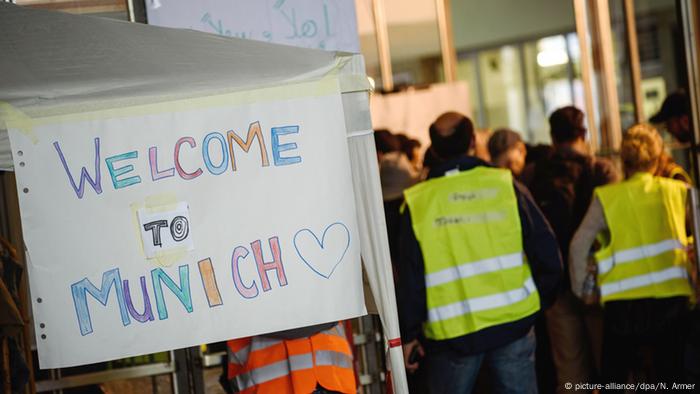 The move was meant as a one-off to ease the plight of the refugees, some of whom had become so frustrated with the disorder of their treatment in Hungary that they had decided to walk from Budapest to the Austrian border. Merkel and Faymann reacted, after learning that the Hungarians laid on buses to take them to Austria.
Merkel and Orban spoke by phone on Saturday and agreed that the decision was a temporary one which was made for humanitarian reasons.
On Saturday, German, officials, including Foreign Minister Frank-Walter Steinmeier, who was attending a European Union foreign ministers' conference in Luxembourg, stressed that the waiving of border controls was really just a one-off.
At the conference, Austrian Interior Minister Johanna Mikl-Leitner stressed the need for an EU-wide response to the refugee crisis.
"Now the continent of Europe is challenged. In this great challenge the entire continent has to give a unified answer," she said.
For his part, Steinmeier, who like Chancellor Merkel has been calling for weeks for a coordinated European response, proposed that EU leaders to gather for a migration summit early next month.
pfd/se (dpa, Reuters, AP)