The Egyptian capital Cairo is the world's most hostile megacity for women, according to a poll by the Thomson Reuters Foundation, the charitable arm of Thomson Reuters.
Karachi in Pakistan, Kinshasa in the Democratic Republic of the Congo and India's Delhi ranked similarly poorly, with Delhi faring worst in terms of sexual violence.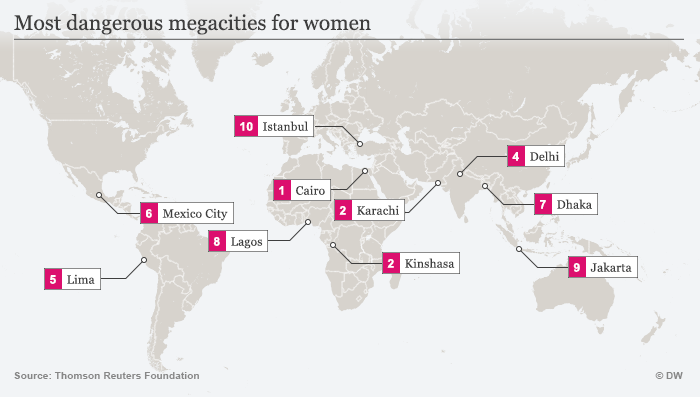 Read more:Alaa al-Aswany: She's a woman, not an object
Mexico City, Dhaka, Lagos, Jakarta, Istanbul and Lima were also included in the worst 10.
At the other end of the scale, London, Tokyo and Paris made the cut as the most women-friendly metropolises.
Key findings:
— Overall, Cairo was found to be the most dangerous megacity for women, followed by Karachi, Pakistan, Kinshasa, DR Congo and Delhi, India.
— Lima, Peru came in worst for access to health care
— Kinshasa ranked last for economic opportunities.
— Sexual violence and rape was worst in Delhi and in Sao Paolo in Brazil.
— Harmful cultural practices were most apparent in Cairo.
— London in the UK ranked as the best megacity for women, followed by the Japanese and French capitals; Tokyo and Paris.
Danger in Cairo, lacking bank access in Kinshasa
Experts in Cairo point out that treatment of women had worsened since the Arab Spring movement in 2011.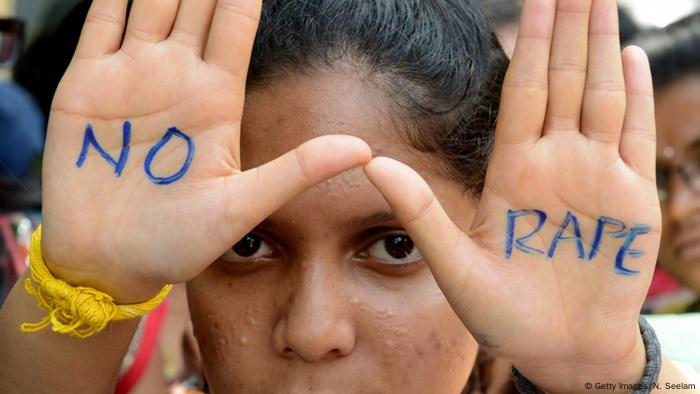 Rape and sexual violence is rife in cities like Delhi
"Everything about the city is difficult for women. We see women struggling in all aspects. Even a simple walk on the street, and they are subjected to harassment, whether verbal or even physical," said high-profile Egyptian journalist and women's rights campaigner Shahira Amin.
Read more: Women defy local traditions in Pakistan's Swat Valley
In Lima, high teenage pregnancy rates and restrictive abortion laws mean risky illegal terminations are widespread. As a result, complications from botched abortions are a leading cause of death for women in Peru.
In Kinshasa, women mostly work in small, informal businesses or agriculture, sectors that tend to be cut off from banking, as many women do not even have access to legal documents required to open an account, for example.
London, Tokyo, Paris top for women
London, on the other hand, was praised for easy access to health care, low rates of harassment and good economic opportunities.
"There is no other city in the world where I would want to raise my daughters," London Mayor Sadiq Khan told the Thomson Reuters Foundation.
He called London one of the most progressive capitals in the world, but admitted issues like the gender pay gap and too few women role models at the highest levels in public life still had to be resolved.
Tokyo was ranked safest for women while Paris scored well overall. However, campaigners say harassment is still an issue.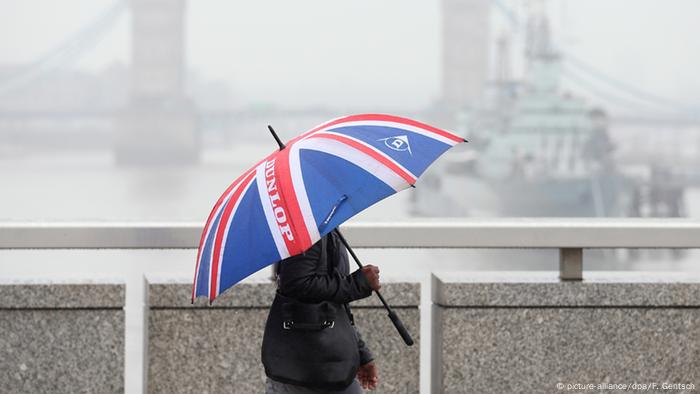 London was ranked best megacity for women
Moscow outperformed New York on several counts and was named most female-friendly city if judged solely on cultural practices.
Read more: Harvey Weinstein expelled by Oscars academy
In the first poll of this kind, 380 experts from 19 cities with a population of 10 million or more were asked how these metropolises fared in terms of sexual harassment and violence, cultural practices, access to health care and finance, as well as economic opportunities in general.
A megacity is defined as housing 10 million people or more. Since 1990, the number of megacities has tripled to 31, including six in China and five in India. The UN expects this number to rise to 41 by 2030.